Sports
Afghanistan: Humanitarian awaits guidance on women's role in aid operations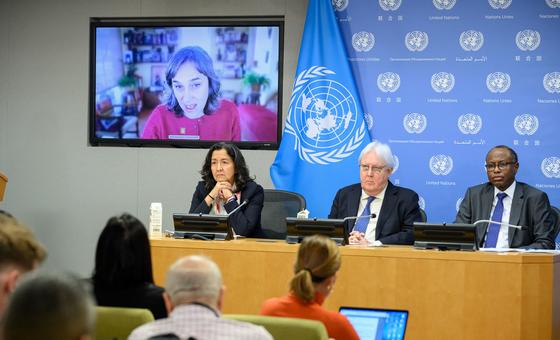 On behalf of the Inter-agency Standing Committee (IASC), they stressed that the world's largest humanitarian operation – supporting some 28 million people in Afghanistan – simply could not function without female staff.
Officials reported on their trip to the country last week, following a decree banning Afghan women from working with local and international aid agencies, published on Dec.
The days that followed, in fact The Taliban government allows women to continue working in the healthcare sector.
A similar exception has been made in education, albeit with a focus on the primary level because Afghan girls and women have been barred from attending secondary and tertiary education.
A clear message
In meetings with the Taliban, the IASC delegation expressed opposition to the ban, which it hoped would be rescinded, and supported waivers in all aspects of humanitarian action.
Martin Griffiths, UN relief director and IASC president, speaking at a news conference at UN Headquarters, said they were informed that guidelines were being developed and were asked to be patient. .
"I am someone who does not like to speculate too much, because it is a matter of speculation. Let's see if these instructions get through. Let's see if they are beneficial. Let's see if there is space for the essential and central role of women in our humanitarian activities," he said.
"Everybody has an opinion on whether it works or not. Our view is that the clear message has been delivered: that Women are central and essential workers in the humanitarian fieldbeyond having rights, and we need to see them back in action."
The important role of women
Humanitarian organizations will need $4.6 billion to fund their operations in Afghanistan this year.
Three years of prolonged drought, economic decline and the impact of four decades of conflict have left about two-thirds of the population, 28 million, dependent on aid, with 6 million at risk of starvation.
According to Janti Soeripto, President and CEO of Save the Children, women make up 30% of the 55,000 Afghan citizens working for NGOs in the country.
"Without women on our team, we cannot provide humanitarian services to millions of children and women," she said.
"We won't be able to identify their needs; communicate with female householders, many of whom are in Afghanistan after years of conflict, and to do so in in a safe and culturally appropriate way."
Live at risk
Furthermore, many female aid workers are the sole breadwinner of their families, which means more households will fall into poverty.
"We made it very clear that Humanitarian aid is never conditionaland it cannot discriminate', said Miss Soeripto. "We are not there to politicize aid. We cannot do this work without women in all aspects of our value chain."
The loss of these precious workers also comes as Afghanistan is facing its coldest winter in 15 years, with temperatures dropping to nearly -30 degrees Celsius, killing many people.
The IASC delegation visited a clinic on the outskirts of Kabul, run by the United Nations Children's Fund (UN Children's Fund)UNICEF) and a local partner.
Service restored
Critical health and nutrition services are now back up and running as female employees return to work, said Sofía Sprechmann Sineiro, Secretary General of CARE International.
Clinic staff also share a terrible statistic, 15% of children seeking help are severely malnourished.
"So don't let there be ambiguity. Tie up NGOs by banning women from helping save other women's lives will pay with your life," she said, speaking from Kabul.
In their meetings with in fact government, humanitarian leaders also promote the full inclusion of girls and women in public life.
Great learning loss
More than a million Afghan girls have lost their education as a result of the ban on secondary schools, which has added to the damage that has persisted during times of crisis. COVID-19 epidemic.
The ban on the university, announced last month, further dashes their hopes, said Omar Abdi, UNICEF Deputy Executive Director of Programs.
"We are very concerned with the development of girls and women and especially their mental health. In 2023, if lower secondary education remains closed, an estimated 215,000 girls in sixth grade last year will again be denied the right to study," he said.
Despite the bleak outlook, Mr Abdi points to a few positive signs.
room for hope
Since the ban, about 200,000 girls have continued to attend secondary schools in 12 provinces, and female secondary school teachers continue to receive salaries.
"Officials we met in Kabul… have reaffirmed that they have no objection to girls attending secondary schools and have once again promised to reopen once the guidelines are approved by their leadership," he said. they approve".
Meanwhile, the number of community education classes in homes and other locations has doubled to 20,000 in the past year, serving about 600,000 children, more than half of whom are girls.
"These positive signs are the result of both commitment on the part of in fact government and pressure from the local community to keep schools and community schools open," said Mr Abdi.
"As long as the community continues to demand education, we must continue to support both public and other forms of education, community-based classrooms, catch-up classes and vocational training."