Entertainment
Alyssa Scott speaks out after the death of her 5-month-old son Nick Cannon after he confirmed her pregnancy with Bre Tiesi
Alyssa Scott voiced to follow Nick Cannonnotice that he is expecting another baby.
On Monday, we reported how the TV presenter confirmed that he is indeed expecting his eighth childa boy, this time with a model Bre Tiesi. A few hours later, Alyssa opened on Instagram and reflect on the news during her own challenging time recently, when she died 5 months old Zen Scott Cannonwhom she shared with Nick, had a brain tumor in early December.
Related: Nick opens up about Zen's disappearance after child's tragic death
Writing about his feelings after the news about Nick, Scott shared:
"I want to thank everyone who has texted or thought of me over the past few months. I always say Zen has opened my heart in ways I never thought possible. He filled that void with compassion, knowing that I would need it most. It is painful for my son to be part of conversations that do not fit his light and legacy. It's not something I would have chosen for him or for myself."
And she continued:
"It is important for me to let you all know.. I am central, I am at peace. I look at everyone's predicament with loving eyes. I will not judge. I will consciously decide what I will participate in. I am surrounded by love. God, mom, dad, sister, brother and daughter continue to carry me."
OH.
Here's the full post, including a second IG Stories post that came out later on Monday, in which Alyssa revealed she's "forever grateful he's been in the arms of those who love him." he's the most" (below):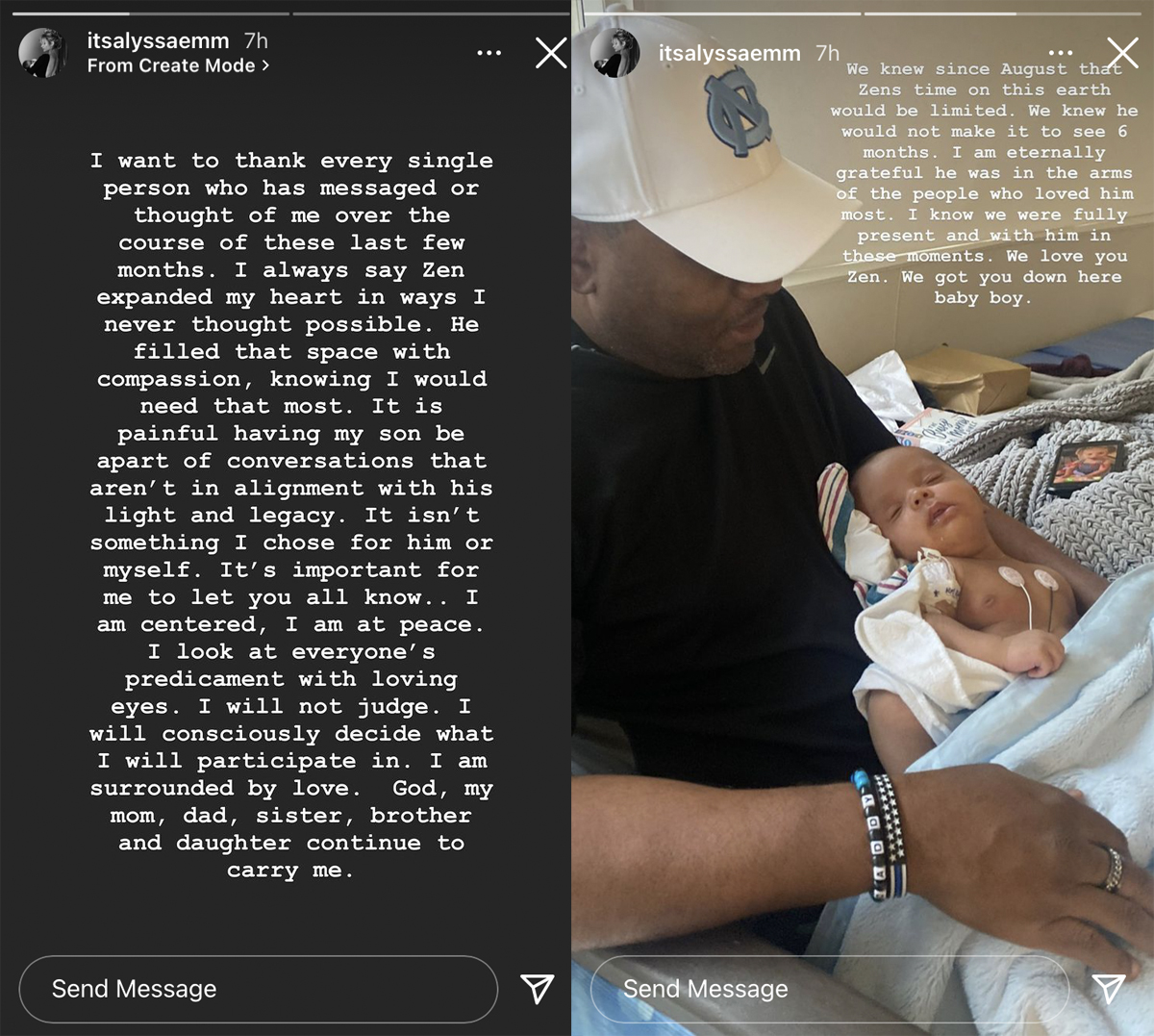 Powerful tool.
All our love to Alyssa as she continues to grapple with the tragedy of her infant son's death.
[Image via Alyssa Scott/Instagram]