News
Biden relaunches 'Cancer Moonshot' initiative to halve cancer mortality by 2047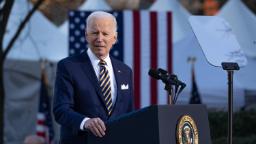 "We can do this. I promise you, we can do this. For all the people we have lost, for all the people we miss. We can put an end to this. cancer as we know it," Biden said in remarks at the White House.
The president pledged to bring "a sense of fierce urgency" to the fight against cancer and better support cancer patients and their families.
Biden has appointed Dr. Danielle Carnival, who serves in the White House Office of Science and Technology Policy, as coordinator of the White House Cancer Report. The President also announced the creation of a "Cancer Cabinet," with representatives from the Departments of Health and Human Services, Veterans Affairs, Defense, Energy, and Agriculture, as well as the Environmental Protection Agency. School, National Institutes of Health, National Cancer Foundation. Institute and others across the entire executive branch.
Both President and Vice President Kamala Harris spoke about losing a loved one to cancer.
The doctor who treated Beau Biden before he died of brain cancer was present at the White House "Cancer Moonshot" event.
"That's the man who spent 18 months trying to save our son's life. Doctor, I love you," the president said as he pointed to him in the crowd.
"After a lifetime of working to end cancer, cancer ended my mother's life. I will never forget the day she sat with my sister and I told us that She was diagnosed with colon cancer. It was one of the worst days of my life," Harris said at the White House event.
"I miss my mom every day," Harris said. "And I take her memory with me wherever I go. When President Biden launched Cancer Moonshot five years ago, of course I thought of my mother."
Biden has called on Congress to fund his proposal to create the Advanced Research Projects Agency in Health (ARPA-H), a new program to foster innovation in health research, initially. will focus on diseases like cancer and Alzheimer's.
The president said Americans have missed more than 9 million cancer screenings in the past two years because of the Covid-19 pandemic. He urged anyone who missed their screening to call their doctor as soon as possible to make an appointment.
Biden initially directed the initiative while he was serving in the Obama administration as vice president. It aims to accelerate the nation's progress in the fight against cancer.
Wednesday's relaunch of the program did not include any new funding. In December 2016, Congress authorized $1.8 billion to fund Cancer Moonshot over a seven-year period, with $400 million still available for 2022 and 2023.
A senior administration official told reporters on a call Tuesday while previewing the President's announcement that the program's first five years of success allowed the administration to set "really engaging goals." hope" in the future.