News
CBI books Amrapali MD, 6 others on murder charge | India News
NEW DELHI: The CBI applied PINE TREE against Anil Sharma, the chief executive officer of Amrapali Corporation, and six others were charged with murder and criminal conspiracy in connection with the murder of a former secretary of a prestigious school in Bihar more than eight years ago. The agency has also named a doctor, Dr Praveen Sinha, businessman Rajendra Singhania, a supporter of Shambhu Sharan Singh and several others charged in the FIR.
The CBI took over the investigation by order of the Patna high court. According to the CBI's FIR, the murder was committed by the named defendant in order to appropriate land and property belonging to the educational institution, Balika Vidyapeeth.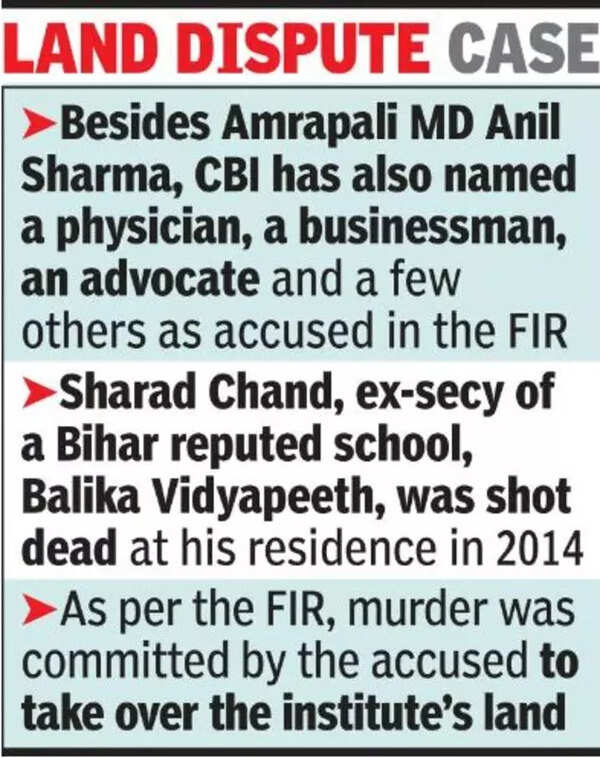 "It is alleged that in August 2009, Anil Sharma, MD of Amrapali Group, appropriated the trust of Balika Vidyapeeth with the help of Rajendra Prasad Singhania, Dr Praveen Kumar Sinha, Shyam Sunder Prasad and Shambhu Sharan Singh and his deceased secretary are FIR said.
"Since then, a dispute has occurred between the two sides. It is also alleged that Balika Viyapeeth's income was misappropriated by opening a personal account run by Dr Praveen Kumar Sinha and Dr Shyam Sundr Singh and therefore the deceased Dr Sharad Chand filed a claim. complaints about the illegal way in which Balika Vidyapeeth is being run," the FIR read further. The complaint adds that the deceased was also subjected to frequent threats and attacks, and that his home was damaged and had previously burned down.
Dr. Chandra, former secretary of Balika Vidyapeeth, an educational institution for girls, in Lakhisarai, was shot dead at his residence on campus on August 2, 2014. He was drinking tea and reading the newspaper in his varandah when two men arrived. gate on a bicycle. One of them entered the campus and shot him from close range. Chandra's wife, Usha Devi, and the cook ran to rescue him but Chandra died on the spot.