News
Coronavirus pandemic and variant Omicron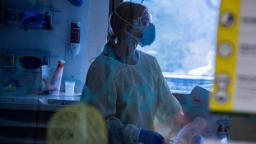 Rochelle Walensky, director of the US Centers for Disease Control and Prevention, said on CNN's New Day on Wednesday decided to shorten The isolation period for people with asymptomatic Covid-19 infection is driven by evidence around transmission and what isolation procedures people "can tolerate".
"We looked at several areas of science here," Walensky said when asked how the CDC addressed five days of isolation for everyone. "First, the science of how transmission happens in the time period after you've been infected. We know that the greatest amount of transmission occurs one to two days before you develop symptoms, two to three days after you develop symptoms. And if you map that out, those five days account for about 85 to 90% of all transmissions that occur. "
The CDC "really wants to make sure that the first five days are spent in isolation," Walensky said, adding that it has been asking people to wear masks for the past five days.
They're also looking at the epidemiology, she said, and they're seeing and expecting more cases of Omicron, many of which are mild or asymptomatic.
Finally, they look at behavioral science, "what do people really do when people need to get back to work? What will they really do? And if we can isolate them, we want to make sure they're in quarantine for the first five days when they're most infectious. "
When asked if the decision has as much to do with business as it does with science, Walensky said "it actually has a lot to do with what we think people will be able to tolerate."
Isolation rates have been relatively low throughout the pandemic, she said, adding that "some science has shown that less than a third of people are quarantined when they need to."
"We really wanted to make sure we had guidelines in place in this moment, where we would have a lot of potential illnesses, that people were willing to follow. And that's in particular about when people are most likely to be contagious. So it really speaks to both behavior as well as what people can do," she said.
Walensky also said the old 10-day guideline was "conservative", when asked why they didn't make the change sooner.
"However, given that we are going to have so many more cases, many of which are asymptomatic or have mild symptoms, people will feel well enough to go to work, they don't have to. stay at home and they may not adhere to stay at home," she said. "This is the moment where we need to make those decisions and changes."
.