News
Electric buses are driving a quiet revolution in Nairobi, Kenya


CNN
—

In the early days of the coronavirus pandemic in Nairobi, Kenya, the impossible happened: a mountain appeared. To limit the spread of the virus, authorities have called on thousands of the city's private bus operators to cease business. "Within three days, the air was completely fresh," recalls businessman Jit Bhattacharya. "You can see Mount Kenya… crystal clear," about 90 miles away.
Bhattacharya also saw an opportunity. Kenyan production 90% electricity from renewable sources – mainly geothermal and hydroelectricity – and has excess grid capacitybut it imports almost all petroleum fuel. What if clean energy could be introduced into the transportation sector? Maybe it can help the city clean up its act. Perhaps Mount Kenya could once again become a lasting feature of Nairobi.
The capital of Kenya is home to more than five million peopleand matatus, privately owned minibuses and shared taxis, "are crucial to the way people in Nairobi get around," says Christopher Kost, Africa program director at the Institute for Transport and Development Policy, explain. "In the city, we have 40% of our trips by public transport."
"The challenge we are facing right now is that these matatus are stuck in traffic," he added. "People face delays, service is not always reliable. Those are the problems we need to fix."
Electric buses can help solve the problem. Today, Bhattacharya is the CEO and co-founder of BasiGo, a mobility startup racing to electrify city buses. The company is not alone. Swedish tram manufacturer-Kenya Roam is also eyeing Nairobi's public transport sector. Both are launching bus fleets this year that could mark the start of a new chapter for the city famous matatu culture.
Nairobi's matatus in all their glory
BasiGo started by importing two 25-seat buses from China's electric tram giant BYD and began a pilot plan in March 2022. Operating on a fixed route in Dandora, a neighborhood in east of Nairobi, the CEO said the two buses have carried 175,000 passengers and driven more than 135,000 kilometers (84,000 miles) to date. He added: "The most remarkable thing is that during that entire period, they had less than two days of technical downtime.
In the coming weeks, 15 more buses will hit the streets. These vehicles, which have been imported as kits, are being built in the coastal city of Mombasa, Bhattacharya explains, creating jobs and reducing taxes.
Instead of operating its own fleet, BasiGo is selling buses directly to Nairobi's private operators through a "pay as you drive" program. Bhattacharya says that in doing so, buyers can purchase BYD electric buses at the same upfront cost as diesel buses of similar size.
As part of the deal, drivers get free bus maintenance and servicing as well as a free charge. Charging infrastructure – connected to the national grid – is being rolled out along busy roads at stations where buses often stop overnight. (The aim, according to Bhattacharya, is to switch to electricity "without changing the behavior" of the driver.)
Read more: Why the energy transition is difficult for Africa
BasiGo's buses have a range of 250 kilometers (155 miles) and recharge in four hours. Under the company's model, BasiGo retains ownership of the bus's battery ("about 40-50% of the vehicle's value"), which means that after eight years or 600,000 kilometers (373,000 miles), the battery will be replaced and Old batteries will be replaced. Bhattacharya says the second-life battery in the app is not intended for vehicles or is recycled.
The startup says it has received more than 100 pre-orders to date. It aims to have 100 buses on Nairobi's roads by the end of the year and 1,000 buses in operation by the end of 2025.
Meanwhile, Roam is planning his own. Electric mobility startup formerly known as Opibus, a finalist for the 2022 Earthshot Awards, has two distinct models of buses designed for Nairobi's needs.
The Roam Rapid can carry up to 90 people, has a range of more than 360 kilometers (224 miles) and is designed to carry passengers along major corridors and on routes such as airport transfers.
The bus has undergone four pilot schemes and is currently being tested on Thika Road, a major highway in the capital. Roam says it aims to have as many as 10 Rapid models in private use by the end of the year. It is awaiting the results of a government bid related to the city's upcoming BRT (Bus Rapid Transit) network, which could result in a contract for up to 100 buses.
Project coordinator Dennis Wakaba said: "We feel that we have developed a product that is lovely, usable and has basic functionality.
The Roam Move is a smaller bus designed to compete with the traditional matatu market. Wakaba claims the bus will cost 20 Kenyan shillings ($0.16) to run per kilometer, compared with 50 to 60 shillings ($0.40 to $0.48) for a comparable diesel engine. Through a financial model – the details of which are yet to be finalized – he says drivers could recoup the cost of the car within four to five years. The Move is still in the prototype stage, but Roam plans to finish 10 by October.
Read more: A pay-as-you-go electric truck delivers deliveries on the dirt roads of Rwanda
For now, charging is only available at Roam's workshop in the city, although Wakaba said it has authorized the installation of public chargers on Thika Road, and Roam plans to install charging points along the routes to fully charged during the day and full. overnight charging.
Chief product and strategy officer Albin Wilson is keen to differentiate Roam from the competition.
The biggest difference, he argues, is that we design our product (ourself), adjusting the battery size, bus size and other factors for the Kenyan market. "We're really working in a different area," Wilson notes.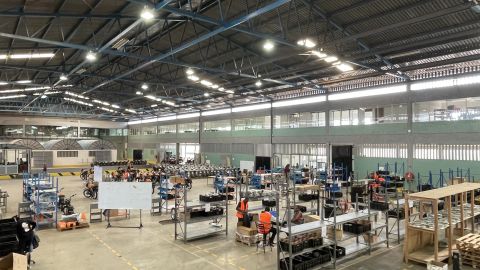 Kost believes that while healthy competition in the private sector will ultimately benefit consumers, the public sector also needs to be involved. "Just changing vehicles to an e-bus is not enough. We need to make sure that at the same time there are improvements in infrastructure, operations and regulations," he said.
He added: "The ideal arrangement is where the government invests in neighborhoods, stations and depots, then the private sector can bring in capital to invest in buses.
"Nairobi would be a much more efficient city if we had a good public transport system that provides fast, reliable service," concludes Kost, with potential economic benefits that could encourage encourage government participation.
BasiGo and Roam have set their sights beyond Nairobi and Kenya. "We are really excited to adopt an electrification model that can extend this public transport system to other markets," said Bhattacharya, naming Rwanda, Uganda, Tanzania and Ethiopia as among potential countries to expand BasiGo. Roam said it is looking for contractors for Roam Rapid across East Africa and plans to roll out Roam Move across the region by the end of 2024.
In the meantime, both companies are doing all they can to attract city drivers and passengers to their products. After all, electrification may not mark the end of matatu. It could be an upgrade instead.
"We want these things to be accessible to everyone across Nairobi. Bhattacharya said: "Rich, poor "doesn't matter". "I think passengers, once they've gone and experienced (our bus), they won't be willing to go back."