News
Estela Domínguez: Teenage Spanish cyclist dies after being hit by truck during practice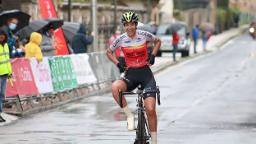 CNN
—

Teen cyclist Estela Domínguez has died after being hit by a truck during practice, the Royal Spanish Cycling Federation (RFEC) said in a statement Friday.
The accident happened on a highway in the Spanish city of Salamanca, the statement said.
Domínguez, just 19 years old, was described by RFEC as "one of the most promising racers in the country."
"From RFEC, we deeply mourn the death of Estela Domínguez and we would like to extend our sincere condolences to her loved ones and teammates," RFEC added. "All cyclists in Spain are in mourning."
According to RFEC, Domínguez placed second in the youth category at the 2022 Spanish Women's Cup and has capped the Spain national team in the Tour du Gévaudan Occitanie in the Cup of Nations.
Her Sopela racing team, with whom Domínguez joined in early 2023, said in a statement: "It is with great grief that we learned that Estela Domínguez passed away this afternoon as a victim of an accident while training.
"We have not yet been able to process the extremely difficult passing of cyclists. We are with the family during these terrible moments. Rest in peace."
CNN has reached out to local police in Salamanca for comment.
Alejandro Valverde, the 2009 Vuelta a España winner, posted his condolences on social media.
"No words can help with something like this," he wrote on Twitter.
"All my love to the family and friends of Estela Domínguez and especially to her father, with whom I spent the early years of my life. SEE."
Domínguez's father is Juan Carlos Domínguez, according to Reuters, who has won a place in the Giro d'Italia.