News
Govt education support leaves out 68% of kids aged 3-6: Study | India News
NEW DELHI: A total of 68% of children between the ages of three and six are not covered by the public provision of early childhood education (ECE) in India, according to a research authorized by Save the Children of India. For the remaining 32%, spending is Rs 8,297 per child per year, which varies from state to state, from Rs 3,792 in Meghalaya up to Rs 34,758 in
Arunachal Pradesh
.
For quality ECE services that are universal for all children in this age group, the study projects total budget allocations in the range of 1.5% to 2.2% of GDP. For the period 2020-21, the total budgetary supply for ECE in India, including the Center and the States, is around Rs 25,000 crore, which is about 0.1% of GDP.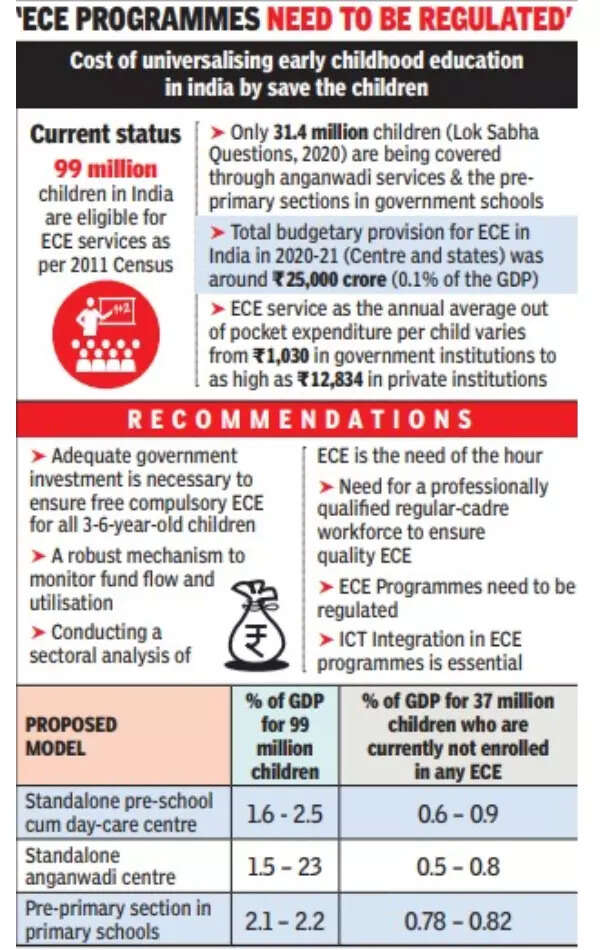 The study projected the average cost per child per year between Rs 32,531 (known as feasible cost) to Rs 56,327 (called optimal cost). "Actual costs (within this range) will depend on the type of model applied for deployment. The report states that programmatic administration and management costs (monitoring and monitoring, quality improvement and institutional building costs) for universal ECE services each year amount to Rs 367 crore".
The new one National education policy (NE) has recommended the inclusion of children aged 3 to 6 in the school system structure and universalization of early childhood education by 2030. The policy highlights ECE as one of the 'key long-term financial areas' '.
Universalizing ECE is very important because brain development in children aged 0-6 is the fastest.