News
Grammy Awards 2023 Complete Winners' List: Beyonce creates history; Lizzo and Harry Styles take home top honours | English Movie News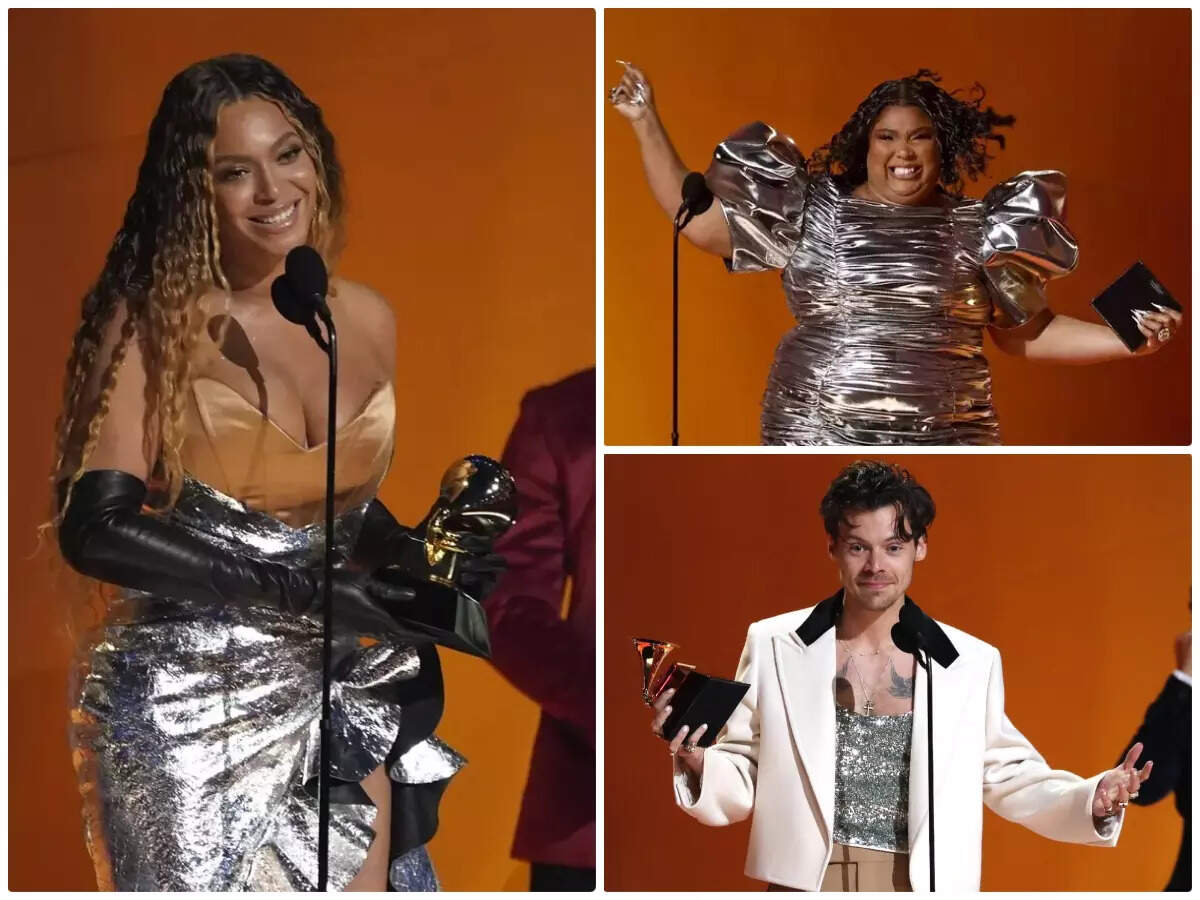 Pop queen Beyonce reigned supreme at the Grammys, breaking the all-time winning record with her 32nd award and placing fourth on the night to resounding applause.
The 41-year-old enters the day with the most chances of winning a Grammy gold with nine, after releasing "Renaissance," her rich, multi-layered ode to club music.
She earned the title by winning the Grammy Award for Best Dance/Electronic Album for her hit "Renaissance", thereby surpassing the late classical conductor Georg Solti, who had 31 awards.
"I'm trying not to get too emotional. And I'm trying to embrace tonight," Queen Bey said, donned in a sparkly, curvy dress, her hair bouncing like a mermaid as her colleagues. Her witness moments made history .
Beyonce thanked her family and paid special tribute to the queer community, who she credits invented the genre she celebrates in her historic multi-layered recording, paying tribute important to the pioneers of funk, soul, rap, house and disco.
On the other hand, Lizzo won the Grammy Award for Record of the Year for the single "About Dam Time", beating a crowded field including Beyonce and Adelie. Scoring the award is a return for Lizzo, who was widely considered a big winner in 2020 but lost every chance at a major prize to pop phenomenon Billie Eilish.
See more: LIVE updates on the Grammy Awards 2023
She dedicated the award to the late pop icon Prince, her lifelong hero, with whom she also worked.
"We're inherently good," she said tearfully during a speech that sent the audience to their feet. "And anyone at home who feels misunderstood or looked at by outsiders, like me, stay true to yourself. I promise you, you will find people, you will attract people who believe. and support you in life."
In her speech, Lizzo also gave special thanks to Queen Bey: "You changed my life. The way you make me feel, I'm like, I want to make people feel that way by my music. Thank you very much". You are clearly the artist of our lives!"
Bad Bunny opened the 65th Annual Grammy gala by getting the audience to their feet with a first performance, then Harry Styles jumped out of the gate winning Best Pop Vocal Album for Disc." Harry's House".
The singer also closed the show by taking home the prestigious Grammy Award for Album of the Year, a surprise victory over two of the most popular singers, Beyonce and Adele.
The award-winning pop sensation for his third album "Harry's House," his closest ever album, combines twangy ensembles and soft sounds with very personal lyrics.
"This doesn't happen often with people like me, and this is great," he said on stage.
From Viola Davis scoring her EGOT, to Samara Joy being awarded Best New Artist, scroll down below for the full list of winners.
Record of the year
"Don't Shut Down Me" – ABBA
"Easy for me" – Adele
"Break My Soul" — Beyoncé
"Beautiful Good Morning" – Mary J. Blige
"You and Me on the Rock" — Brandi Carlile feat. Lucius
"Woman" — Doja Cat
"Bad Habit" – Steve Lacy
"Heart part 5" — Kendrick Lamar
"About Dam Time" — Lizzo: WINNER
"As It Was" – Harry Styles
Album of the year
Itinerary — ABBA
30 — Adele
Un Verano Sin Ti — Bad Bunny
Renaissance — Beyoncé
Beautiful Good Morning (Deluxe) — Mary J. Blige
In These Silent Days — Brandi Carlile
Music of the spheres — Coldplay
Mr. Morale & the Big Steppers — Kendrick Lamar
Special — Lizzo
Harry's House — Harry Styles: WINNER
Song of the year
"abcdefu" — Gayle
"Damn Time" — Lizzo
"All Too Well (10 Minute Version) (Short Film)" — Taylor Swift
"As It Was" – Harry Styles
"Bad Habit" – Steve Lacy
"Break My Soul" — Beyoncé
"Easy for me" – Adele
"God Did" — DJ Khaled feat. Rick Ross, Lil Wayne, Jay-Z, John Legend and Fridayy
"Heart part 5" — Kendrick Lamar
"Just Like That" — Bonnie Raitt: WINNER
Best New Artist
anitta
Omar Apollo
Domi & JD Beck
Samara Joy: WINNER
lathe
Eye-catching
Long Muni
Tobe Nwigwe
Molly Tuttle
wet feet
Best music video
Easy for me – Adele
Not Coming — BTS
Woman — Cat Doja
Heart Part 5 — Kendrick Lamar
As It Was — Harry Styles
All Too Well: Short Film — Taylor Swift: WINNER
Best Pop Solo Performance
"Easy on Me" — Adele: WINNER
"Moscow mule" – Bad Rabbit
"Woman" — Doja Cat
"Bad Habit" – Steve Lacy
"Damn Time" — Lizzo
"As It Was" – Harry Styles
Best Pop Duo/Group Performance
"Don't Shut Down Me" – ABBA
"Bam Bam" — Camila Cabello ft. Ed Sheeran
"My Universe" — Coldplay & BTS
"I Like You (A Happier Song)" — Post Malone & Doja Cat
"Unholy" — Sam Smith & Kim Petras: WINNER
Best Traditional Pop Vocal Album
Taller — Michael Bublé: WINNER
When Christmas comes… — Kelly Clarkson
I Dream of Christmas (Extended) — Norah Jones
Evergreen — Pentatonix
Thank you – Diana Ross
Best Pop Vocal Album
Itinerary — ABBA
30 — Adele
Music of the spheres — Coldplay
Special — Lizzo
Harry's House — Harry Styles: WINNER
Best Dance/Electronic Recording
"Break My Soul" — Beyoncé: WINNER
"Rosewood" — Bonobo
"Don't Forget My Love" — Diplo & Miguel
"I'm OK (Blue)" — David Guetta & Bebe Rexha
"Intimidated" — Kaytranada feat. SHE
"Kneel" — Rüfus Du Sol
Best Dance/Electronic Music Album
Renaissance — Beyoncé: WINNER
Fragment — Bonobo
Diplomacy – Diplo
The Last Goodbye – Odesza
Surrender — Rüfus Du Sol
Best Contemporary Instrumental Albums
Between Dreams and Joy — Jeff Coffin
Not tight — Domi & JD Beck
Bloom — Grant Geissman
Jacob's Ladder – Brad Mehldau
Empire Central — Snarky Puppy: THE WINNER
Best Rock Performance
"So happy when it hurts" – Bryan Adams
"Old Man" — Beck
"Wild Child" – The Black Keys
"Broken Horses" — Brandi Carlile: WINNER
"Crawl!" – Free
"Patient 9" — Ozzy Osbourne feat. Jeff Beck
"Holiday" — Revolving Door
Best metal performance
"Call Me Little Sunshine" — Ghost
"We'll be back" – Megadeth
"Kill or be killed" — Muse
"The Recession Rule" — Ozzy Osbourne feat. Tony Iommi: WINNER
"Power failure" — Revolving door
Composing the best musical instrument
"African Stories" – Paquito D'Rivera
"Invisible El Pais" — Miguel Zenón
"Border suite (Border): Al-Musafir Blues" — Danilo Pérez
"The Hideout" — Geoffrey Keezer: WINNER
"Snapshot" — Pascal Le Beouf
Staging, Good Instrument, Best A Capella
"As Days Go By (Arranged Theme Songs About Family Matters)" — Armand Hutton
"How deep is your love" — Matt Cusson
"Main Title (Doctor Strange in the Mad Multiverse)" — Danny Elfman
"Minnesota, WI" — Remy Le Beouf
"Scrapple from the Apple" — John Beasley: WINNER
Best Orchestra, Instrument and Vocals
"Let It Happen" – Louis Cole
"Never Alone" – Jacob Collier
"The Voice of Optimism/No Love Dying" — Cécile McLorin Salvant
"Songbird (Orchestra Edition)" — Vince Mendoza: WINNER
"2+2=5 (Arr. Nathan Schram)" — Nathan Schram & Becca Stevens
Best Rap Performance
"God Did" — DJ Khaled feat. Rick Ross, Lil Wayne, Jay-Z, John Legend & Fridayy
"Vegas" — Doja Cat
"Pushin P" — Gunna & Future feat. young thugs
"FNF (Let's Go)" — Hitkidd & Glorilla
"Heart part 5" — Kendrick Lamar: WINNER
Best melodious Rap performance
"Beautiful" — DJ Khaled feat. Future & SZA
"Wait For U" — Future feat. Drake & Tems: WINNERS
"First Class" – Jack Harlow
"Die Hard" — Kendrick Lamar feat. Blxst & Amanda Reifer
"Great Energy (Direct)" — Latto
Best Rap Song
"Churchill Downs" — Jack Harlow feat. drake
"Heart part 5" — Kendrick Lamar: WINNER
"Wait For U" — Future feat. Drake & Tems
"God Did" — DJ Khaled feat. Rick Ross, Lil Wayne, Jay-Z, John Legend & Fridayy
"Pushin P" — Gunna & Future feat. young thugs
Best Rap Album
God did — DJ Khaled
I Never Liked You — Future
Come Home the Kids Miss You — Jack Harlow
Mr. Morale & the Big Steppers — Kendrick Lamar: WINNER
It's About To Dry — Pusha T
Best Latin Pop Album
Aguilera — Christina Aguilera
Pasieros — Rubén Blades & Boca Livre: WINNERS
De Adentro Pa Afuera — Camilo
Viajante — Fonseca
France+ — Sebastián Yatra
Best Urbana Music Album
Trap Cake, Vol. 2 — Rauw Alejandro
Un Verano Sin Ti — Bad Bunny: WINNER
Legendaddy — Daddy Yankee
La 167 — Farruko
The tape of love and sex — Maluma
Best Latin Rock or Alternative Album
El Alimento — Cimafunk
Tinta Y Tiempo — Jorge Drexler
1940 Carmen — Mon Laferte
Alegoria — Gaby Moreno
Los Años Salvajes — Fito Paez
Motomami — Rosalia: WINNER

Best Regional Mexican Album (Including Tejano)
Abeja Reina — Chiquis
Un Canto Por México – El Musical — Natalia Lafourcade: WINNER
La Reunión (Luxury) — Los Tigres del Norte
EP #1 Forajido — Christian Nodal
Qué Ganas de Verte (Deluxe) — Marco Antoni Solís
Best Tropical Latin Album
Pa'lla Voy — Marc Anthony: WINNER
Quiero Verte Feliz — La Santa Cecilia
Lado A Lado B — Víctor Manuelle
Legend — Tito Nieves
Imágenes Latinas — Spanish Harlem Orchestra
Cumbiana II — Carlos Vives
Best American Roots Performance
"Someday It'll All Make Sense" (Bluegrass Version) — Bill Anderson feat. Dolly Parton
"Life According to Raechel" – Madison Cunningham
"Oh Betty" — Fantastic Negrito
"Stompin' Ground" — Aaron Neville with Dirty Dozen Brass: WIN
"The Prodigal Daughter" — Aoife O'Donovan & Allison Russell
Best Americana Performance
"Silver Moon" [A Tribute to Michael Nesmith] —Eric Alexandrakis
"Have you go again" – Sleep at the wheel of feats. Lyle Lovett
"Message" — The Blind Boys of Alabama Miracles. black violin
"You and Me on the Rock" — Brandi Carlile feat. Lucius
"Made Up Mind" — Bonnie Raitt: WINNER
Best Mix Music for Visual Media
Elvis
Lyrics: WINNER
Stranger Things: Netflix Series Soundtrack, Season 4 (Episode 2)
Top Gun: Maverick
West Side Story
Best Background Music for Visual Media (Including Movies and TV)
Batman — Michael Giacchino
Encanto — Germaine Franco: WINNER
There is no time to die — Hans Zimmer
The Power of Dogs — Jonny Greenwood
Succession: Part 3 — Nicholas Britell
Best soundtracks for video games and other interactive media
Aliens: Fireteam Elite — Austin Wintory
Assassin's Creed Valhalla: Dawn of Ragnarök — Stephanie Economou: WINNER
Call of Duty: Vanguard — Bear McCreary
Marvel's Guardians of the Galaxy — Richard Jacques
Old World — Christopher Tin
Best song written for Visual Media
"Be Alive (From King Richard)" — Beyoncé & Darius Scott Dixon
"Carolina (From Where the Crawdads Sing)" — Taylor Swift
"Hold My Hand (From Top Gun: Maverick)" — Lady Gaga & Bloodpop
"Keep Rising (The Woman King) (From The Woman King)" — Jessy Wilson, Angélique Kidjo, & Jeremy Lutito
"Nobody Likes You (Words Turn Red)" — Billie Eilish & Finneas O'Connell
"We Don't Talk About Bruno (From Encanto)" — Lin-Manuel Miranda: WIN
Best comedy album
The Closer — Dave Chappelle: THE WINNER
Comedy Monster — Jim Gaffigan
A Little Wisdom, A Little Talent — Randy Rainbow
Sorry — Louis CK
We all scream — Patton Oswalt