Sports
Great need remains in Yemen as fragile peace extends beyond truce: UN aid deputy chief |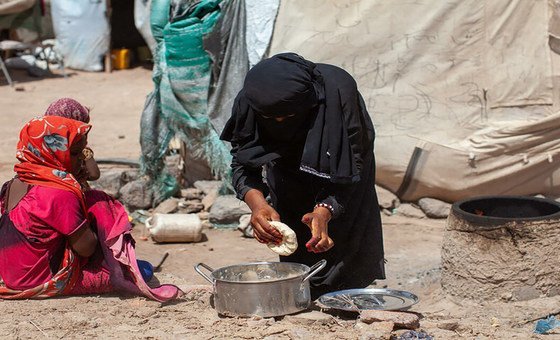 About 23.4 million people in Yemen – more than two-thirds of the population – in need of humanitarian aid, said the Deputy Emergency Relief Coordinator, concluding a nine-day fact-finding mission, with 17 million who are suffering from food insecurity.
Malnutrition rates among women and children are among the highest in the world, with 1.3 million pregnant or lactating women and 2.2 million children under the age of 5 requiring treatment for acute malnutrition. .
Dividend reduction
After more than seven years of conflict, a UN-sponsored ceasefire in April this year resulted in a reduction in civilian casualties and opened the way for much-needed fuel supplies into the country. UN has call for innovation and expansion of this armistice, which has remained in place to this day.
Msuya, who spoke with different communities during the trip, said: "Despite significant progress has been made since the beginning of the armistice, enormous humanitarian needs remain in Yemen. .
Support for the long haul
"There is no doubt: without continued commitment from donors, millions of people will go hungry and the lives of millions of malnourished children will be at stake," she said. "This is a critical moment for Yemen, and humanitarian donors cannot leave the springboard."
During her visit, Mrs. Msuya visited Aden, Marib, Sana'a and Al Hodeidah. She has met people displaced and affected by the conflict, those in urgent need of humanitarian assistance, as well as Yemeni officials and aid partners.
'Extraordinary inspiration'
"It is incredibly inspiring to see the work that the humanitarian community is doing here," Ms. "I am deeply grateful to all the humanitarian workers who are doing everything they can to help displaced people and host communities."
In Marib, Ms.uya met people forced from their homes, and heard how they were lacking in safe food and water, basic health services and education.
She has also met displaced women and girls who spoke to her about gender-based violence, forced early marriage and lack of privacy and safety. Aid agencies have provided livelihood opportunities to many of these women, who are often the main breadwinners of their families.
War 'destroys everything we own'
Amal, who is sheltering with his family at the Al Sumyah site in Marib, has been uprooted four times in the past seven years. "The war destroyed our livelihood and everything we owned," she said, noting that her community needed livelihood opportunities and educational support for children.
About 4.3 million people have been displaced since the conflict in Yemen escalated in 2015. Most of those fleeing violence have been displaced over the years, and many have been forced to move several times. Since April, an additional 160,000 people have also been displaced by torrential rains and floods across the country.
Mine victims
In Hudaydah, Msuya visited the United Nations-supported Al Thawrah Hospital, where she met children and adults injured by landmines and unexploded ordnance. Over the past six months, landmines and other explosive hazards have become the most common cause of civilian death or injury in connection with conflict.
Three weeks ago, Yousef, 17, was walking home in Al Mandhar area when he stepped on a landmine. He lost his left leg.
"We hope that all these mines will be cleared," Yousef's brother said. "We don't want this tragedy to happen again."
The deputy humanitarian director also visited the hospital's malnutrition ward, where she spoke with mothers of malnourished children and saw the different ways humanitarian agencies are helping. support women and children.
The Deadly Price of Poverty
Msuya also meets Safie, a widow at the age of fifty who was forced to leave home six years ago. She lost her mother, sister and brother in the same month.
Safie said: 'My sister died of complications related to childbirth because we couldn't afford the treatment.
Employment and development
"Everywhere I go, people tell me they desperately want a job so they can support their family, as well as have access to health care, clean water and schools," said deputy director. the aid director said. "We need development organizations involved to help authorities deliver these services; Humanitarians cannot do this alone".
Msuya said the two most effective ways to reduce humanitarian needs in the country, is to build a sustainable and inclusive peace, and return the declining economy to normal: "Without the this, the dynamics of the humanitarian crisis will persist and people will continue to suffer".