Auto Express
Is Rishabh Pant speeding? CCTV footage of his car accident goes viral
Indian cricketer Rishabh pants admitted to falling asleep behind the wheel of the luxury car he was driving to his hometown of Roorkee in Uttarakhand when it hit the divider on the Delhi-Dehradun highway early in the morning of Friday, December 30. CCTV footage of the accident shows how the car he was driving hit the median at very high speed. Video of his car on fire while he was lying on the ground with serious injuries has been circulating on social media since morning.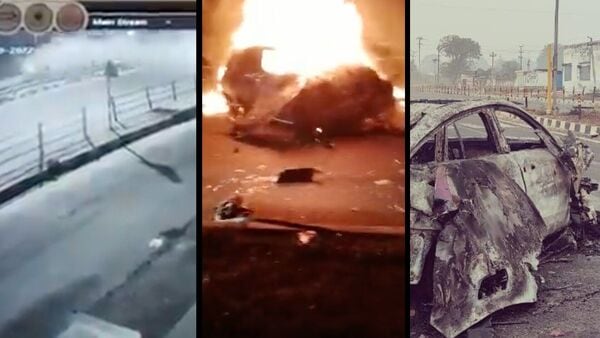 Rishabh Pant is currently being treated at Max Hospital in Dehradun, where he is said to be out of danger. He was driving alone when the accident happened. "He fell asleep while driving and as a result the vehicle collided with the divider and caught fire. He was transferred to Roorkee hospital where he has now been transferred to Dehradun," said DGP Ashok Kumar. told the media.
Pant had to break the window of his car to get out safely before the flames engulfed the entire vehicle. Video of him being helped by a local resident also went viral. Dr Sushil Nagar, who treated Pant, said the cricketer had no broken bones but injuries to his head, back and knees. "The injuries occurred because he jumped out of the car by smashing the car window as it caught on fire. When he landed on the curb from behind, the skin peeled off. But it wasn't the wound. burn injury and not very serious," said the doctor.
CCTV footage shows his car was over speeding when the accident happened. The road near Manglaur where the accident happened has a speed limit of 50 km/h to 80 km/h. It was a narrow stretch of highway that passed through markets and residential areas. Although Pant admitted that he fell asleep while driving, it is possible that he was inadvertently speeding up the car that led to the crash.
Speeding is one of the biggest reasons behind all road accidents in India. More than a thousand of the 1,55,000 people who died in road accidents in the country last year were related to speeding cases.
First published date: December 30, 2022, 12:49 PM IST