News
ISIS attempts suicide attack on al-Hol camp in Syria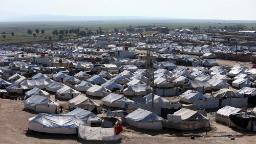 CENTCOM spokesman Colonel Joe Buccino said one of the vehicles exploded prematurely about 12 kilometers northeast of the camp, which alarmed nearby US partner forces, Democratic Forces. Syria (SDF).
When the SDF arrived at the scene, two men got out of the second vehicle. Buccino said one man detonated his suicide vest, while the second was shot dead by SDF forces. Another ISIS fighter is being held by the SDF.
Buccino said the second vehicle was installed with about 110 pounds of explosives. A total of four ISIS fighters were killed in the fighting, including on the first vehicle that exploded prematurely.
"The response of our partner forces not only highlights their dedication to their people, but also their perseverance and commitment to the enduring defeat of ISIS," Buccino said.
Earlier this month, General Erik Kurilla became the first commander of US Central Command to visit al-Hol camp and the highest-ranking US official ever to speak directly to the camp's residents, Buccino said.
The camp has seen sporadic violence in the past, making Kurilla's visit a powerful statement of US support for the SDF, which is fighting for control of the area. Kurilla spoke to the camp's residents and offered condolences to the SDF who recently lost two soldiers during operations there.
"With around 80 births in the camp every month, this place is a literal breeding ground for the next generation of ISIS. About 70% of the population is under 12. These young people are vulnerable to radicalization due to very poor quality. . of life," Kurilla said in a statement after her visit.
In recent weeks, the SDF has conducted security operations in the camp, according to CENTCOM. According to Buccino, this led to "the arrest of dozens of ISIS members and the dissolution of a large ISIS support network both in the camp and throughout Syria".
Kurilla raised concerns about al-Hol in February during his confirmation hearing in the Senate calling for a broad government approach to assist the Syrian Democratic Forces to repatriate some of the 60,000. people living in this location. "My concern is that there's teaching going on there," he told the Senate Armed Services Committee.