News
Lea Michele mocks rumors that she is illiterate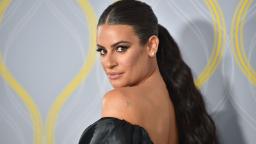 The Broadway show's star decided to have a little fun with the conspiracy theory that continues online that she never learned to read or write.
Michele recently joined TikTok during a break from playing Fanny Brice after testing positive for Covid-19.
The video reads "Call Jonathan to read me my first TikTok reviews," which most people refer to as her best friend and frequent collaborator, actor Jonathan Groff . The post's caption reads "lol", along with some funny emojis.
"I know my lines every day. And then there are rumors on the internet that I can't read or write?"
she speaks
. "It's sad. It really is. I often think if I were a man, a lot of this wouldn't happen."