News
Modi: 'When I'm among you, I'm your family,' PM Modi tells Dawoodi Bohras | India News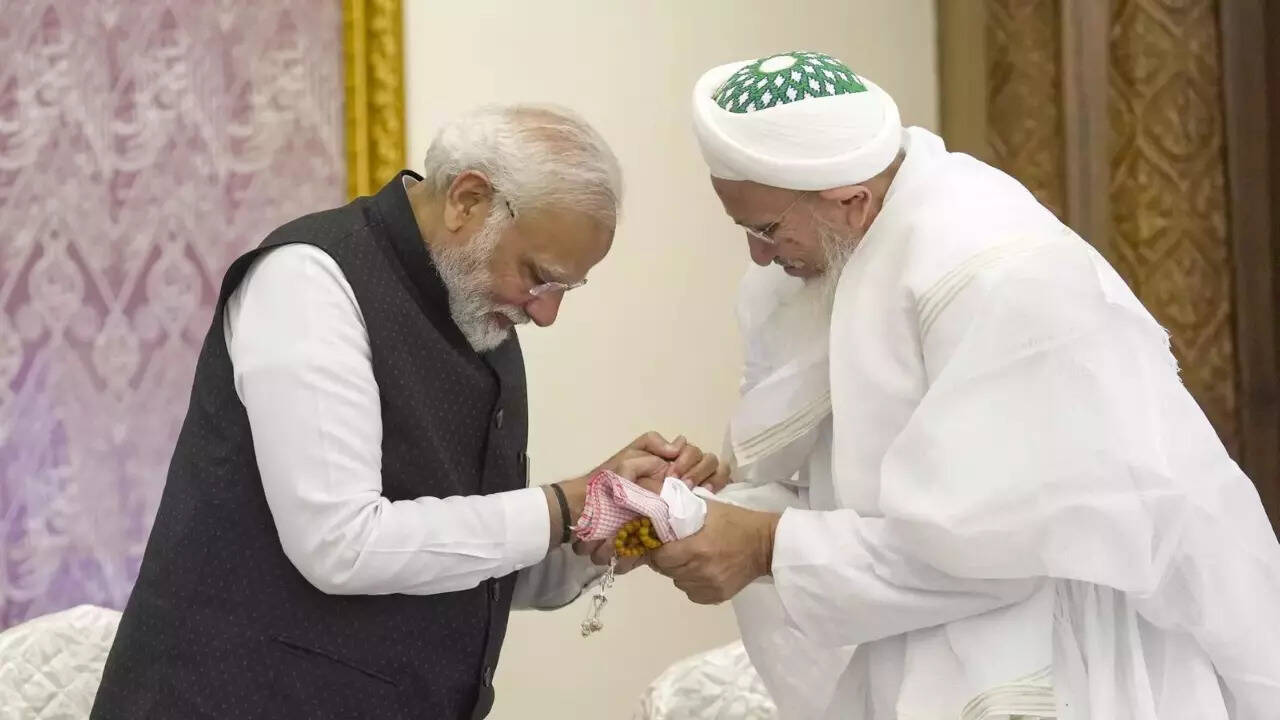 MUMBAI: Prime Minister Narendra Revision on Friday said he considers himself a member of the family of Dawoodi Bohras and celebrate the progress the community has made in the fields of education, business, and entrepreneurship.
"When I am among you, I am neither the prime minister nor the prime minister. I am your family. I have known four generations of Syedna. late Syedna Mohammed Burhanuddin also blessed me," said Modi, after inaugurating the Marol campus of Aljamea-tus-Saifiyah, a leading institute of the Dawoodi Bohra community. The institute has campuses in Surat, Karachi and Nairobi.
Jamea's patron (organization) and spiritual head of Dawoodi Bohras, Syedna Mufaddal Saifuddin, presided over the ceremony attended by Minister Eknath Shinde, Deputy Prime Minister Devendra Fadnavis, a number of diplomats and members community member.
Earlier on the same day, Mr. Modi flagged the CSMT-Solapur and CSMT-Sai Nagar Shirdi Vande Bharat express trains from Chhatrapati Shivaji Maharaj Terminal Station, and inaugurated 'remotely' two branches of the Road widening project. the Santacruz-Chembur link and the Kurar tunnel on the Western Express Highway. .
Modi said that during the Dandi March, Mahatma Gandhi was staying in a "beautiful" wooden house, Saifee Villa. late Syedna Taher Saifuddin then donated the bungalow to the nation at the request of former Prime Minister Jawaharlal Nehru. It is now a memorial that Modi inaugurated a few years ago.
Modi said he has always received the love and affection of the Bohra people and whenever he visits other countries, members of the community come to see him.
Congratulating Syedna and members of the community for opening Jamea campus in Mumbai, Modi said Dawoodi Bohras, who believes in growth and heritage, has gone with the times and has always valued education, including education for girls.
The Prime Minister said that for the past eight years, India has opened one university and two colleges every week. He pointed out that the new education policy focuses on education in mother tongue and Indian languages, "Now, medical and technical education can also be conveyed in the local language."
Modi suggested that skills and technology, academia and industry need to be combined to create an ecosystem where jobs can be created. The government has ended 40,000 compliances to help entrepreneurs, he added.
Syedna Mufaddal Saifuddin thanked Modi for joining him on this "good day" and spoke of the decades-old friendship and bond between the Prime Minister and his late father Syedna Mohammed Burhanuddin.
"India has been our home for centuries and we are at peace here," Syedna said. He prayed that every child would be educated and given the opportunity to grow and mature.
Syedna also thanked the Prime Minister for his many initiatives for the advancement of the nation, commenting specifically on his G20 presidency.