News
Norway's $1.2 Trillion Wealth Fund aims to be net zero by 2050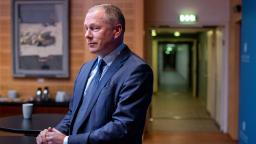 Norway's $1.2 trillion wealth fundlargest in the world, said Tuesday that it will cancel its holdings by pushing companies to cut their greenhouse gas emissions to zero by 2050, in line with the Paris Agreement.
The fund invests oil and gas revenues from Western Europe's largest oil and gas producer for future generations in stocks, bonds, assets and renewable projects abroad.
"Our long-term profitability will depend entirely on how the companies in our portfolio manage the transition to a zero-emissions society," said Norges Bank CEO Nicolai Tangen Investment Management said in a statement.
Tuesday's plan follows a proposal made in April by the Norwegian government, which said the fund would boost the 9,300 companies it invests in to cut their emissions down to numbers. not in 2050.
"We will engage companies to achieve this by setting credible preliminary targets and planning to reduce greenhouse gas emissions," said Carine Smith Ihenacho, Director of Governance and Compliance. their direct and indirect.
However, the fund has previously said it will not divest from major issuers to achieve these goals but will instead be an "active shareholder" to create change.
The fund owns on average 1.3% of all listed global stocks and its size equates to $219,000 for each Norwegian man, woman and child.
The Foundation published its first expectations for how companies should tackle climate change more than a decade ago.
It tracks climate-related risks, defined as the possible impact climate change may have on the assets the fund invests in, as well as opportunities that may arise for individual companies. successfully adapt to it.