News
Russia invades Ukraine, EU approves more sanctions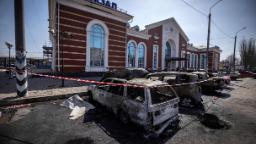 The European Union's High Representative for Foreign Affairs and Security Policy, Josep Borrell, strongly condemned a missile attack on a railway station in the eastern Ukrainian city of Kramatorsk, which killed about 30 people and injured about 100 on Friday, according to officials.
"I strongly condemn this morning's indiscriminate attack on a train station in #Kramatorsk, Russia, which left dozens dead and many others injured," Borrell said on his official. Twitter sixth account.
"This is yet another attempt to close the exits for those fleeing this absurd war and causing human suffering."
European Commission President Ursula von der Leyen on Friday said she was "appalled" by the "despicable" missile attack on the railway station.
Borrell and von der Leyen will meet with Ukrainian President Volodymyr Zelensky in Kyiv on Friday.
French President Emmanuel Macron called the strike "disgusting" in a tweet posted on Friday.
"Ukrainian civilians have fled to escape the worst. Their weapons? Strollers, stuffed toys, luggage. This morning, at the Kramatorsk train station, the departing families experienced horror," Macron said. "Dozens of people died, hundreds were injured. Unbelievable. "
The French President expressed his condolences to the victims of the strike in Kramatorsk and the victims of the recent attacks, namely Bucha, Mariupol and Kharkiv. He also called for an investigation.
Macron reiterated that the European Union will continue to provide humanitarian, military and financial support to Ukraine.
European Council President Charles Michel also condemned the strike.
British Foreign Secretary Liz Truss on Friday said she was "appalled" by the missile attack.
"Targeting civilians is a war crime. We will hold Russia and Putin accountable," Truss said on his official Twitter account.
CNN's Xiaofei Xu and Camille Knight in Paris contributed to this report.