World
School sides with viral transgender teacher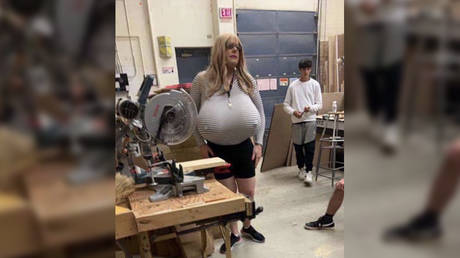 A Canadian school board has defended a transgender teacher after students and parents complained about her oversized fake bust
A transgender teacher in Canada has gone viral on social media after students filmed her during class, revealing her oversized fake breasts under tight clothing. The school board defended the teacher against angry parents, saying she was free to express her gender identity but she saw fit.
Kayla Lemieux, who was identified as Steven Hanna earlier this year, is a production technology teacher at Oakville-Trafalgar High School in Ontario, Canada. After her gender reassignment surgery, she began to receive many complaints from students and parents about her appearance as she wore fake synthetic breasts that almost completely covered her torso and abdomen.
It's clear that in today's woodworking (aka wacky game) class at Oakville Trafalgar High School in Canada, students will learn how to make chapel hat pins, a specialty of the country's transgender teachers. they, Kayla Lemieux…… pic.twitter.com/o9cFoMjnUK

– James Moran #ItsHappening (@ Jpjm1964) September 19, 2022
Heltan County School Boards say they respect Lemieux's right to gender identity and will no longer discuss the matter as it is a "Personal problems."
It added that criticizing the teacher's appearance or interfering with her "Showing her gender identity" would violate the Ontario Human Rights Code.
Several parents have told the Toronto Sun they have no problem with Lemieux becoming a transgender woman, but insist that the teacher's prosthetic will "too far." Others have pointed out that the problem is not with gender expression, but with the fact that the store teacher's appearance is simply "Unprofessional."
The school board has now said they will develop a "safety plan" for the teacher to make sure her gender rights are protected and that she can continue to work with children. The plan would also be aimed at protecting teachers amid concerns that protesters could come to schools to protest the council's decision to keep teachers on payroll.