Sports
Security Council hearing ISIL terrorist threat remains high and growing in conflict zones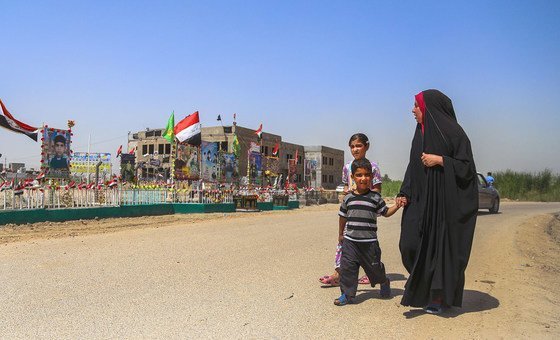 Deputy Secretary General Vladimir Voronkov brief report Security Council where he presented the latest United Nations report on terrorist organizations, highlighting the need for coordinated global action.
Mr. Voronkov began by focusing on the plight of terrorist victims and survivors around the world.
"Because beyond the headlines and behind the numbers, there are so many people and communities that have been affected by the heinous crimes of Da'esh as well as other terrorist groups and individuals," he said. speak.
Still a concern
He reports that Da'esh's threat remains high and has increased in and around conflict areas where the group and its affiliates are active.
Their expansion in central and southern Africa, and the Sahel region, remains particularly worrisome.
He told the ambassadors: "Previous reports raise concerns about an increased risk of attacks in non-conflict areas by unconnected loners and small cells sensing inspired by Da'esh as pandemic-related restrictions are eased.
"While this has not materialized during this reporting period, the level of terrorist activity continues to be a concern for Member States."
Tech-savvy terrorists
Da'esh also continues to use the Internet, social media and video games for propaganda and recruitment purposes, along with new and emerging technologies, such as unmanned aerial vehicle systems or drones. Driverless.
Meanwhile, many people with links to extremists, including children, remain in camps and detention facilities in northeastern Syria.
Mr Voronkov drew attention to the dire situation, warning of far-reaching consequences and the slow pace of repatriation.
Fear of foreign fighters
He stressed that the issue of foreign terrorist fighters is not unique to Iraq and Syria, but is a global challenge, with implications that extend beyond accountability and criminal prosecution.
Warriors with battlefield experience are transferred to their homeland or to third countries, further increasing the threat.
"As noted in the report, terrorist attacks carried out by such individuals have been shown to be especially dangerous compared to what is done by purely domestic terrorists," he said.
"There are also cases where some radical women linked to Da'esh have turned themselves into recruiters, spreading ideology to others and especially children."
Derived from the right
Mr. Voronkov outlined three recommendations to address the persistent threat posed by Da'esh and its affiliates.
He called for multi-dimensional approaches, with "more complementarity" between security responses and preventive measures. These strategies must be sex sensitive And anchored in international law and human rights.
Finally, in light of the growing threat from conflict zones, he stressed the need to better understand the complex relationship between conflict and terrorism.
Cooperation and compliance
Another top UN official, who also briefed the ambassadors, stressed the importance of greater global cooperation in defeating terrorists.
"Just by working multilateralism and cooperation whether we have succeeded in delivering an effective response to the growing global terrorist threat," said Weixiong Chen, acting director of CTED, the secretariat for the government's Anti-Terrorism Commission. The Council said (CTC).
"Our measures must custom, responsive to age and sexAnd compliance with human rights" he added.
Mr. Chen also reported on recent efforts to tackle the use of new and emerging technologies by terrorists, such as the Delhi Declaration, adopted child October last year in India.
The statement aims to address key concerns around issues including the misuse of drones, information and communications technology, and new methods of fundraising and online payments.
Focus on gender
Meanwhile, civil society representative Franziska Praxl-Tabuchi, emphasized why gender-responsive approaches must be incorporated into counter-terrorism policies and programs.
It is not just a matter of recognizing women's participation, she said, but instead ensuring inclusive, equitable participation and leadership by people of diverse genders.
"That requires taking into account experiences, needs and challenges," said Ms. Praxl-Tabuchi, speaking on behalf of the Center for Global Security Cooperation, an independent, nonparticipating body. of individuals as well as recognizing how gender identity relates to other identity factors. partisan policy and academia.
"Simply put, mainstreaming a gender perspective is a prerequisite for success in human rights-based and human-centred policies and programs that address issues of peace and security, including those aimed at combating violent extremism and terrorism."