News
Stephen Humphreys scores an impressive goal from the home side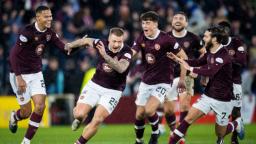 CNN
—

There are still three fixed months left for Scottish club heart to play but Stephen Humphrys scored what was hailed as the "goal of the season" on Saturday.
After taking possession of the ball at the edge of his team's penalty area, Humphrys overtook two defenders and found himself in space.
But with four defenders lined up, he fired a shot towards goal that was still in his half, and the ball flew past the Dundee keeper's range and into the net.
"No way, no way…" Hearts TV commentators exclaimed as Humphrys shot the ball onto the field. The moment the ball came closer to the net, their whole world seemed to explode with joy. "He scored from his own half! Unbelievable!"
Humphrys later told BBC Scotland he would celebrate by, "probably FaceTim(ing) my parents on the street, then a Chinese meal, shower, then bed. Love Island isn't showing tonight so I won't watch…"
His miraculous goal sealed a 3-1 victory for Hearts, as the Scottish club reversed a 1-0 loss to beat 10-man team Dundee United.
"The first section sums him up to a tee; speed and power to get away from defenders," manager Robbie Nielsen told the club's website. "The ending was just sensational. I think time slowed down a bit, for everyone in the stadium. It will be the goal of the season, that's for sure."
Dundee took the lead early on but defender Ryan Edwards was shown a red card for a dangerous tackle in the 29th minute, bringing Jam Tarts back into the game.
Shankland equalized for Hearts in the 71st minute before Cochrane gave the Edinburgh club the lead late in the game and Humphrys' cannon sealed the victory.
Hearts' win cements third place in the Scottish Premier League table, seven points ahead of fourth-placed Livingston.