Auto Express
Tesla Shanghai hits 1 million EVs, Elon Musk congratulates workers
Tesla Shanghai Gigafactory is currently the largest electric vehicle factory in the world.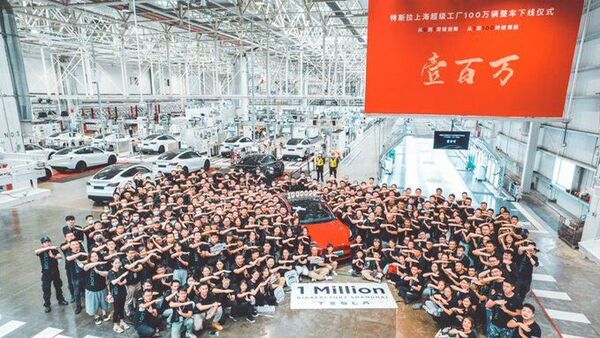 Tesla officially confirmed that it has produced one million electric cars with the latest unit it built on August 13. The Shanghai Tesla factory when it started producing electric vehicles in 2019, initially only Tesla Model 3 production. Later, the factory also began production of Tesla Model Y. Tesla CEO Elon Musk took to Twitter to wish the team the production milestone.
With that goal in mind, Musk also stated that the EV company's cumulative production figures are now over three million units. The company's combined installed production capacity at the end of the second quarter of this year is estimated at more than 1.9 million units. And at this rate of production, it is expected that Tesla could produce five million EVs globally in the coming months.
(Also read | Tesla stops taking orders for Model 3 Long Range, Elon Musk explains why )
Tesla's Shanghai Gigafactory is currently the world's largest EV factory, which according to the latest quarterly report is capable of producing more than 7,50,000 Tesla units Model 3 and Model Y EVs. As reported by InsideEVs, Tesla's Vice President of External Affairs shared that more than 95% of the parts used at the Tesla factory are made from local suppliers, while 99.9% staff is Chinese.
Previous reports have suggested that with the level of localization that Tesla is aiming for, the company is also thinking about designing and developing an electric vehicle in China.
(Also read | Tesla's next factory may be located in this country, active lobbying )
In addition to the factory in Shanghai, Tesla also has production centers in Fermont, Texas and, most recently, Berlin, Germany. The company recently started production after several delays due to objections from various environmental groups. Tesla is also thinking of building another factory in Canada.
Date of first publication: August 16, 2022, 15:42 PM IST