Auto Express
The Hyundai Kona is bigger, bolder and more stylish. And it's not just electricity
Hyundai Motor officially launched the new generation Kona SUVs for the global market. The Kona, previously offered only as an electric motor, will now be available in a range of powertrains, including an internal combustion engine. The new generation SUV is larger in size than the previous generation. The design has also been upgraded to look more futuristic. The interior has also been reworked to give it more luxury and, in the carmaker's view, 'maximum living space for customers'.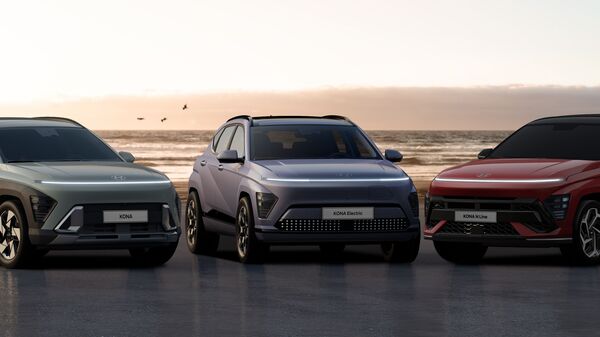 In terms of size, new generation hyundai Kona has a length of 4,355 mm, about 150 mm longer than its predecessor. The width is also increased by 25 mm and the wheelbase is increased by 60 mm. The look of the new Kona is quite different from its predecessor. Sticking to Hyundai's Ioniq design cues, the Kona comes with a single LED DRL that extends seamlessly at the front. It also borrowed the pixelated Seamless Horizontal Light from the automaker's Seven Concept, providing a pixelated light signature in the center of the light bar. The SUV is now offered with bolder wheel arches, housing 19-inch alloy wheels that come with a pixel-inspired design and black moldings.
Hyundai is offering the new Kona in four different powertrains. Besides the all-electric variant, the Kona will be available in an internal combustion engine, hybrid electric and also a sporty N Line variant. The ICE and hybrid electric variants will come with black plastic bumpers and wheel arches. The N Line version has a slightly different rear spoiler, a more aggressive rear bumper, dual rear exhaust pipes and silver side skirts. It also has black mirrors and a black roof.
Also read: Hyundai launches Ioniq 5 crossover for India today
The interior of the new generation Kona is more luxurious and spacious thanks to the increased wheelbase. Hyundai has removed some of the physical controls and opted for a more minimalist interior. The dashboard is now dominated by dual 12.3-inch touchscreen infotainment screens, which also double as the instrument panel. The gear selector has been moved from the center console to behind the steering wheel. It also offers more central storage than before.
Hyundai has yet to share powertrain details and performance numbers. The automaker is expected to reveal more details about the new generation Kona in the coming months.
First published date: December 20, 2022, 08:49 AM IST