Lifestyle
The Ultimate Guide to Tallinn Christmas Market, Estonia
A small Christmas market located in the heart of Tallinn, Estonia covered with white snow. Warm lights from wooden stalls illuminate the cobblestone streets and rosy faces of tourists sipping wine. The Christmas tradition dates back to 1441, making Tallinn the perfect place to capture the magic of Christmas and experience the traditional and historic Christmas Market.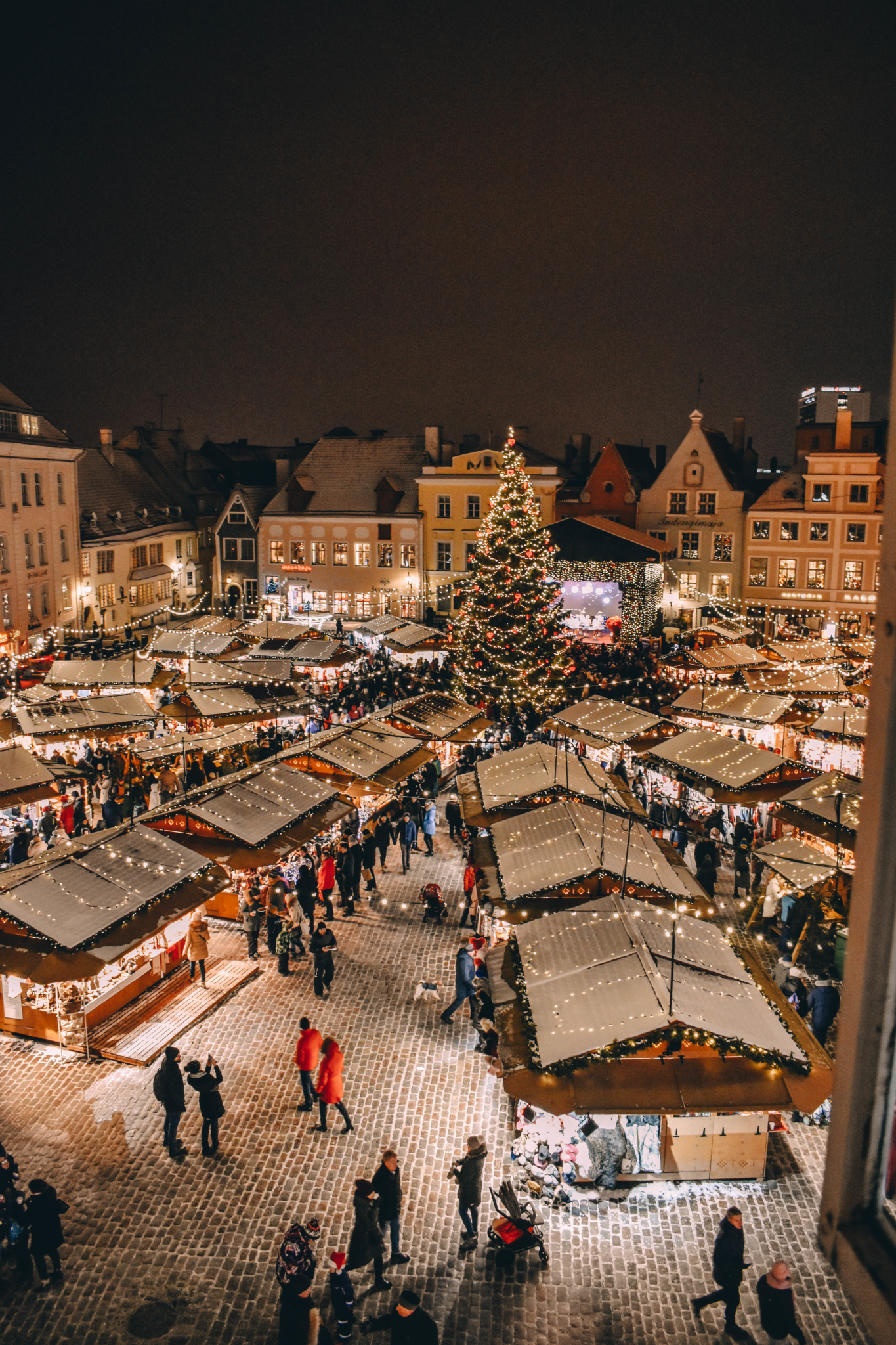 This guide will show you the best way to experience Tallinn's Christmas market as well as the well-preserved medieval town.
Some of the world's best tourist attractions are in the most unlikely destinations, and that's true in the tiny Nordic country of Estonia – especially around Christmas time. Estonia's capital city, Tallinn, is home to what Europe's Best Destinations recently named the #1 Christmas market in Europe!
Thousands of voters agreed that this market sparkled all over the rest of Europe, and that's reason to see what all the holiday buzz is about. Here you'll find everything you need to know when you visit the award-winning Tallinn Christmas Market.
Tallinn IS Christmas Market is open this year and runs from November 24, 2022 to January 5, 2023.
Although the usual Christmas market tourist route may lead you to GermanySwitzerland and France, you're really missing out if you don't head further northeast to the culturally rich country of Estonia.
On a trip to Helsinki, FinlandWe decided at the last minute to hop on a boat and experience the lovely Tallinn Christmas market. After seeing a few photos online and learning it had won Best Christmas Market, we knew we had to see it for ourselves.
A Quick Guide to Tallinn Christmas Market:
The Christmas Market in Tallinn, Estonia operating from November 24, 2022 to January 8, 2023. It's a pretty long time so you'll have plenty of time before or after Christmas!
One day is really all you need to experience the city and see the Christmas markets. No need to spend the night. I recommend going there by boat, buy tickets here.
I also recommend taking a walking tour of the city, we had a wonderful medieval guided tour it's a different kind of travel! They dress up and talk about the history and legends of Tallinn and Estonia. This is a free tour that takes place in front of the tourist information center at 10:30am and 13:00 (1pm) daily.
Go to Tallinn, Estonia
Getting there was easy and honestly, part of the fun. The ship runs regularly from Helsinki to the port of Estonia and is connected by 3 ferry companies. Tallink Silja offers 6 times daily, Viking Line 3 times daily and Eckerö also 3 times. It takes about 2 hours to pass and prices range from £30 – £100 euros round trip. we bought a ticket the day before right here.
The boat trip itself was excellent with a restaurant, places to relax and even a shop. The reason why so many ferries are offered is because there are a lot of people in Finland doing their shopping, especially alcohol, in Estonia.
Now, many people use boats to get to the beautiful Christmas market. The Estonian spirit of Christmas has been recognized throughout Europe and around the world since 1441, when the world's first publicly displayed Christmas tree was erected in Tallinn's Town Hall Square.
Since then, a towering, shimmering tree has been placed and decorated in the center of the square every November, standing tall in January. And under the tree lies one of Europe's oldest holiday traditions, the famous Christmas market, which bustles with craftsmen, chefs, entertainers, shoppers, etc., every year.
Tallinn in winter
Most visitors would suggest traveling to this part of the world, Northern Europe and the Baltic coast, during the warmer summer months when you don't have to wear three layers of clothing to go outdoors. And honestly, you don't get too much light during the day.
Even so, anyone who's been to the fairytale capital Tallinn in winter knows that there's no better time to visit. Famous medieval architecture and quaint churches covered with snowflakes, the UNESCO-listed Old Town glittering with decorative lights and twinkling lights, and of course, the Town Hall Square bustling with a holiday market named by Forbes as one of the top 10 in Europe.
Lonely Planet also named Estonia one of the best places to go on a budget, and I have to agree!
In addition to the holiday and festival markets, you can explore Northern Europe's only surviving Gothic Town Hall, snap postcard-worthy winter photos from the hilltop citadel of Toompea, or ice skate under the lights. twinkle. Tallinn is a city rich in history, natural scenery, ancient architecture, delicious and welcoming food, and the festive season tends to add to the beauty of the city.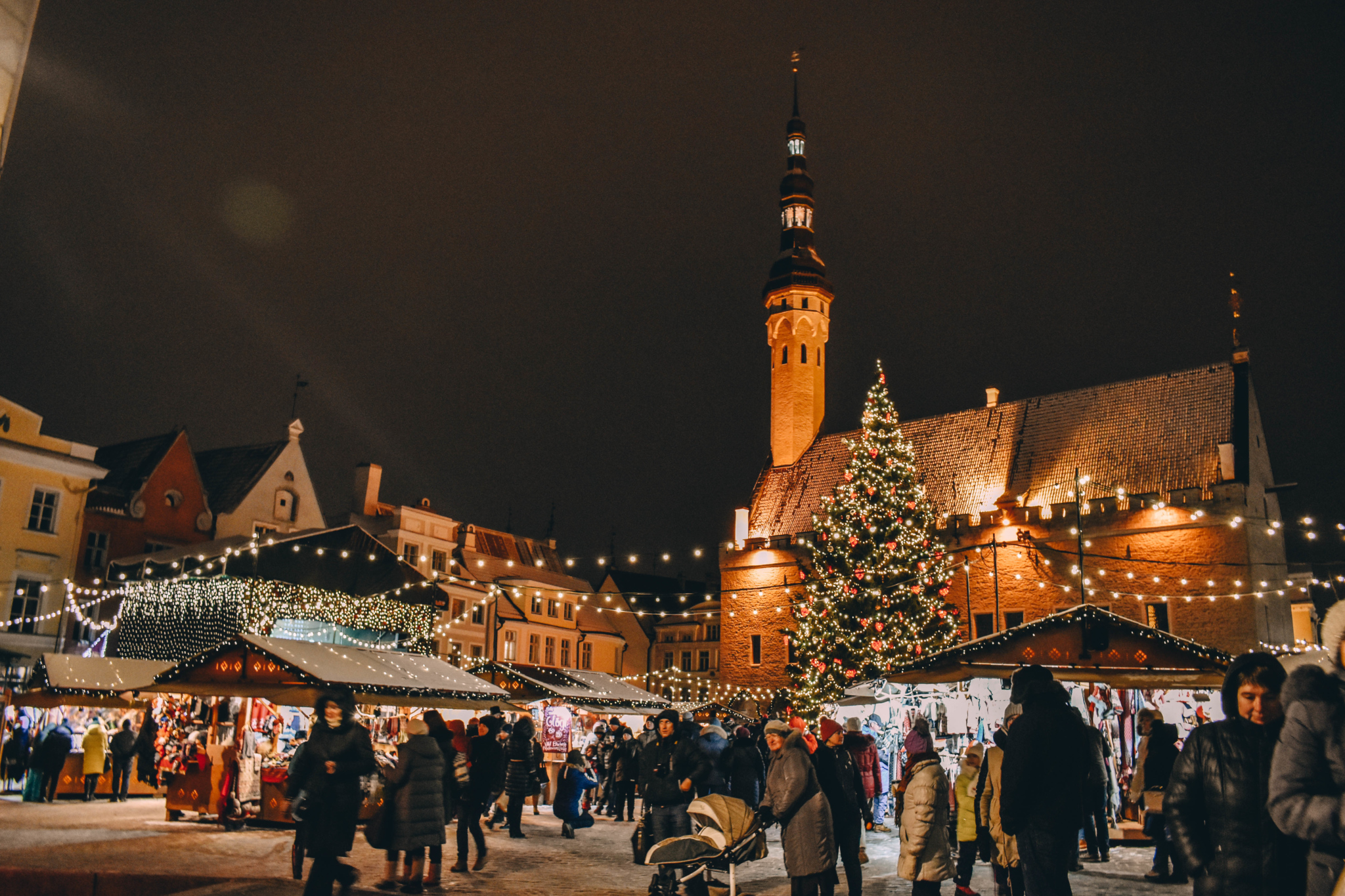 What to expect
Whatever your expectations, Tallinn Christmas Market is sure to surprise you. Here you'll find age-old traditions, friends and family gathering for drinks and dinner, and a wealth of handcrafted items to give as gifts to those you love.
However, Estonia is a country with a unique culture, and you will find that Tallinn Christmas Market is different from all other holiday markets in Europe and around the world. Warm drinks, hearty winter food, crafts and festivals are all unique to Estonia, and that's what makes this market so unforgettable.
Tallinn has an interesting history, even claiming to be the largest building in Europe with the Church of St. Olaf. We don't know much about this building as it burned down 3 times and was struck by lightning at least 17. But we do know that many people often die from walking over a rope from the building's tower.
Things to know
You really can't go wrong browsing the Tallinn Christmas Market, but being prepared will help. Bring plenty of cash for snacks, winter drinks, and of course, lots of holiday gifts. While some stalls will accept credit card payments, most prefer or only allow cash. Fortunately, prices at Tallinn Christmas Market aren't nearly as inflated as in other, often more touristy holiday markets across Europe.
You might have expected the weather in Estonia to be cool, but it's especially important to be prepared to explore the Tallinn Christmas Market. You'll probably want to spend a lot of time wandering, eating, and shopping, so be sure to have a warm jacket, warm gloves, a hat and comfortable boots or shoes ready for walking.
The Christmas Market is open from mid-November to early January, but those looking to see the most action should head to Town Hall Square on weekends or during Advent, when there are more vendors and events take place. live performances.
Eat what
Whatever you do, don't eat a hearty meal before heading to Tallinn Town Hall Square. The Christmas market is known as one of the best places in the city to dine during the holiday season, and sampling hot Estonian food adds to the fun of the festival. You won't be able to miss the smell of warm pia (gingerbread), smoked meats and traditional Christmas barbecue. Holiday cookie stands await the little ones, while adults can warm cold hands and bodies with glögi (spiced liquor).
You should try the traditional holiday blood sausage when experiencing the culture of Estonia during Christmas. The combination of barley, pork, spices and animal blood has created a sausage so appealing and memorable that it has become the country's national dish. From pork chops, potatoes and sauerkraut to warm gingerbread and hot cocoa, there are so many holiday delights to try at Tallinn Christmas Market, which I recommend coming on an empty stomach and eating. snacks from one counter to another.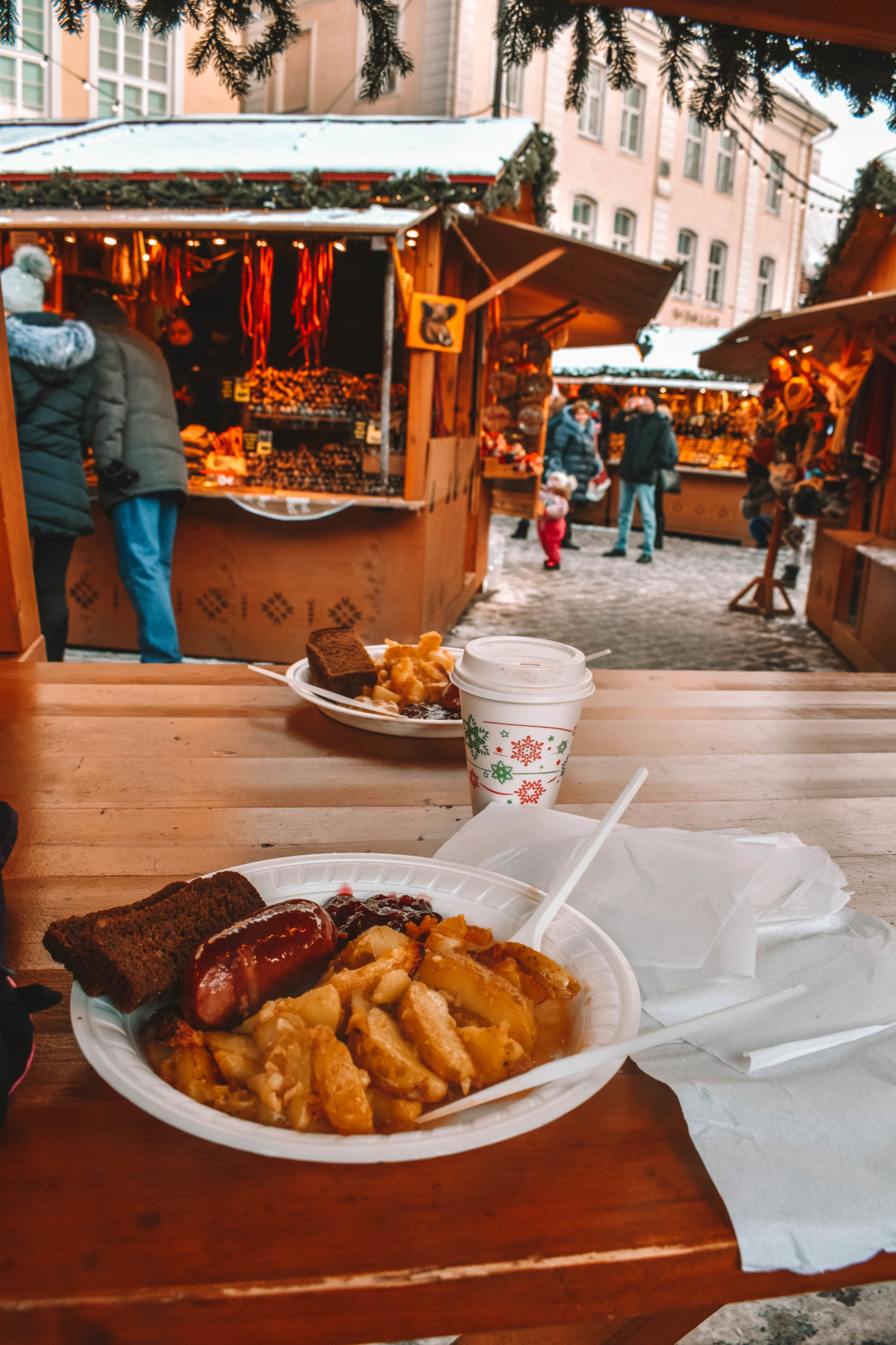 You may also want to read: What to eat at the Christmas market?.
What to buy?
You can find something for everyone on your list at Tallinn Christmas Market and you'll know they won't get the same gift from anyone else. The handcrafted items for sale here are all handcrafted and of the highest quality, from children's toys and trinkets to intricate knit socks, sumptuous furs and day decorations. The wooden ceremony is carefully carved.
Warm your hands and toes with handmade woolen gloves and felt heels, or stuff socks with dolls and wooden ornaments. It is nearly impossible to leave the Christmas Market empty-handed.
I bought myself a wool jumper and it is the warmest thing I own!
What to watch?
Much of what makes Tallinn Christmas Market unique is the number of cultural shows that take place on weekends and throughout Advent. Every Sunday, a birth candle is lit, and town leaders and church officials gather to greet visitors from Tallinn, across Estonia and around the world. On other weekend nights, visitors can enjoy live cultural performances from groups across Estonia and abroad. Around 3,000 performers appear on stage at the Tallinn Christmas Market each year.
And no visit to the Talinn holiday market is complete without a visit to the star of the season – Santa Claus. The funny old man greets all the good boys and girls and distributes candies from his lovely carnival house. Fun and loads of holiday activities make this market especially magical for little ones. The festivities also run through January, and New Year's Eve celebrations rival all the pre-Christmas fun in terms of excitement, entertainment, food and more.
Do not forget
Before heading back to your hotel with bags full of holiday gifts and sweets, make sure you check out some Tallinn Christmas Market essentials.
Take a picture with the famous Christmas tree against a beautiful backdrop of pastel, snow-covered houses.
Take a selfie with Santa before he and his reindeer take off and deliver presents to children around the globe on Christmas Eve.
Sing with the choir as they share holiday songs from Estonia and around the world on stage.
Dip fresh gingerbread cookies in hot cider (or hot cocoa for young children).
Follow the festivities of the holiday by ringing up a whole new year with Tallinn's spectacular New Year's Eve celebrations.
Christmas is the most magical time of year for many, and there is no winter wonderland quite like the snow-covered quaint town of Tallinn. Visit this year's award-winning Tallinn Christmas Market and make it the most memorable holiday season.
I am already anticipating my next holiday visit back to Estonia!
Want more Christmas Markets? I have you!
Scandinavia's Ultimate Journey: Oslo, Stockholm and Helsinki
What to eat at Christmas markets in Europe
The Ultimate Guide to the Best Christmas Markets in Europe
15 Best Christmas Markets in Germany
25 photos that will inspire you to celebrate Christmas in Europe
The best winter destinations in Europe