Sports
UN calls for international support for Haiti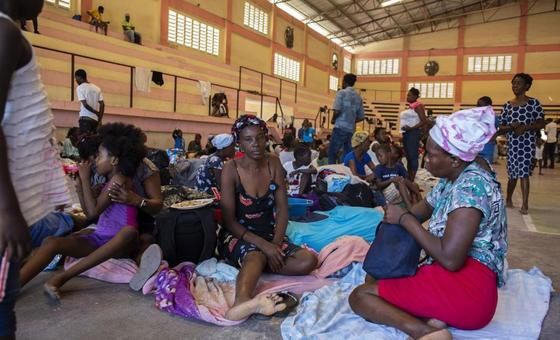 to handle Security CouncilMs. Mohammed highlighted the UN Secretary-General's call for support to the Haitian National Police, as outlined in a letter to ambassadors in October.
"I urge every country capable of doing so urgent review in response to the Haitian Government's request for a dedicated international armed force to help restore security and alleviate the humanitarian crisis," she said. speak.
Terrorize the local community
Haiti has been crippled by gang violence that is hindering the free movement of people, goods and humanitarian aid.
Insecurity has fueled a resurgence of cholera, increased food insecurity, led to mass displacement and disrupted schooling for thousands of children.
Gangs are also using murders and rapes to terrorize and subjugate entire communities.
Step up now
"There are many other crises around the world. But few crises, if any, test our commitment and values ​​like the one we are witnessing in Haiti," said Mohammed.
"It is time to step up and turn the current crisis into an opportunity for a stronger Haitian recovery," she added.
Murder and Kidnapping
Reporting to the Council, the United Nations Special Representative to Haiti, Helen La Lime, said 280 people were murdered there last month – the highest on record. Reported kidnappings have exceeded 1,200 this year, or double the figure for 2021.
"Exacerbating the plight of millions of people living in the midst of this violence is the dire economic situation, with all major roads in and out of the capital under gang control, impeding operations. commerce," she said from the capital, Port-au-Prince.
"Nearly half of the population is food insecure, with around 20,000 people facing a famine-like situation."
Downsizing the police force
Despite the Government's investment, she said, the Haitian National Police (HNP) "continues to be under-resourced and ill-equipped to tackle the volume of tasks ahead."
Furthermore, the force continues to shrink. The increased consumption has reduced the active power to less than 13,000 employeeswith less than 9,000 won available as active duty officers.
"Some effective operations against the gangs in Port-au-Prince have been launched but maintaining these security interests continues to be a challenge. The HNP needs support in the form of a specialized force, as outlined in the Secretary-General's October 8 letter," she said.
Political developments
Politically, Ms. La Lime said the Haitian people welcomed a Council resolution, passed unanimously in October, establishing a punitive regime Target gang leaders and their supporters.
UN Mission in Vietnam, BINUHhas also continued efforts to promote political dialogue.
Civil society groups have developed a 'National Consensus document' that includes steps to transition to an election within an 18-month timeframe.
Ms La Lime told the Council that some Haitian interlocutors who support sanctions see them as an important tool in the fight against corruption and impunity.
"However, sanctions are most effective when part of a comprehensive approach: including ongoing political dialogue; and enhanced operational security support for the HNP, as outlined in the Secretary-General's letter," she said.
"These three parallel approaches will be essential to restoring order, public confidence and hope that the country's tomorrow will be better. The Haitian people deserve it no less."