News
UN unveils plan to prevent oil tanker disaster off Yemen coast
David Gressly has outlined plans to tackle the threat posed by FSO Safer, described as a ticking time bomb off the coast of Yemen's Red Sea.
45 years old floating and unloading storage (FSO) holding 1.1 million barrels of oilor four times the number of Exxon Valdez – the tanker that caused one of the largest environmental disasters in US history.
There is a risk of spilling large amounts of oil due to leakage or explosion.
"If it happens, the spill will cause a major ecological and humanitarian disaster centered on a country that has been ravaged by more than seven years of war," Mr. Gressly said.
Possibility of far-reaching devastation
FSO Safer has been anchored about 4.8 nautical miles southwest of the Ras Issa peninsula on Yemen's west coast for more than 30 years.
Production, offloading and maintenance ceased in 2015 due to conflict between the Saudi-led pro-government coalition and the Houthi rebels, and the ship is currently not being repaired.
Mr. Gressly warned that a significant oil spill would have devastating consequences for Yemen and beyond.
Some 200,000 livelihoods in the country already ravaged by war and crisis could be wiped out in an instant, and families would be poisoned with life-threatening poison.
Environmental and economic impact
"A major oil spill is likely to close, at least temporarily, the ports of Hudaydah and Saleef," he added, referring to key entry points for food, fuel and resources. provide.
The disaster would have severe environmental impacts on life-supporting water, coral reefs and mangroves. Saudi Arabia, Eritrea, Djibouti and Somalia are also at risk. The cleanup alone cost $20 billion.
"That doesn't take into account the cost of environmental destruction across the Red Sea. Or billions could be lost due to disruption of shipping through the Bab al-Mandab strait, which is also a passage to the Suez Canal," Mr. Gressly told journalists.
"Think about what used to be," he said, referring to the massive container ship that ran aground in the Suez Canal a year ago, disrupting global commerce.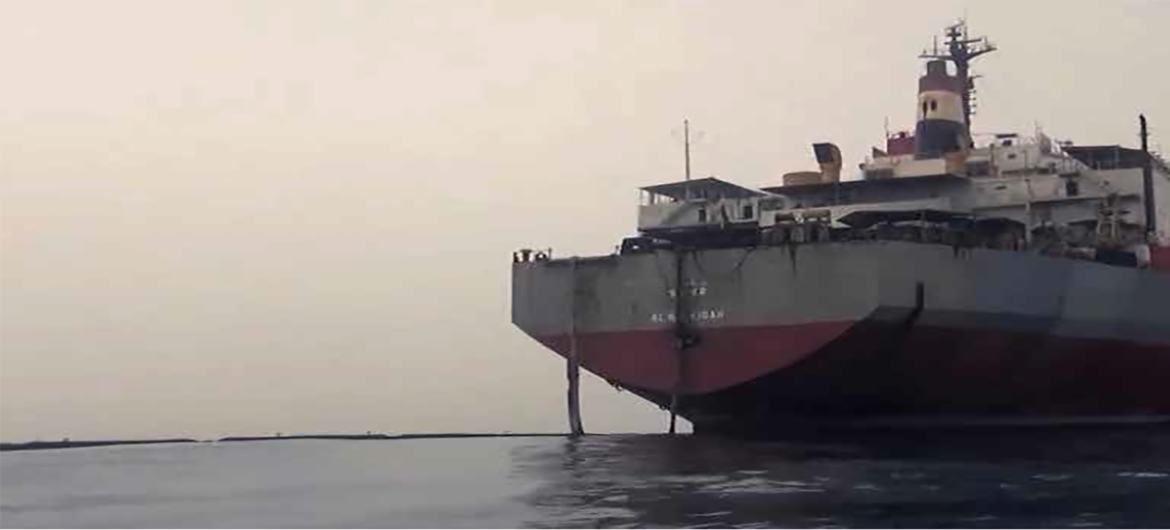 A 'Safer' Plan
A UN-coordinated plan to tackle the threat, with a total cost of about $80 million.
Yemen's warring parties, which last week implemented a two-month ceasefire, have signaled their support, as have senior leaders of the United Nations and several countries on Security Council.
The plan has received the support of the Government of Yemen, based in Aden, while a memorandum of understanding has been signed with in fact authorities in the capital Sana'a, who control the area put the FSO Safer.
The plan includes two tracks, which will run concurrently. It calls for the installation of a long-term replacement of the damaged tanker within 18 months and emergency operation to transfer the oil to a safe temporary vessel within four months, thus eliminating any threat. threat in sight.
Both the FSO Safer vessel and the temporary vessel will remain in place until all oil is transferred to the permanent replacement vessel. FSO Safer will then be towed to the yard and sold for salvage.
'Tight times'
To raise funds, a pledge conference in May, co-organized by the Netherlands, will be announced soon.
Mr. Gressly will visit Gulf capitals next week to discuss the plan and solicit financial support.
He stressed the urgent need for funding, noting that without it, the "time bomb" would continue to function.
"My particular concern is that we really need to wrap up this operation by the end of September to avoid the turbulence that starts at the end of the year…which increases the risk of breakdown and also increases the risk of conducting any real estate projects. any activity. , " he say. "So timing is very tight."