Auto Express
Watch: Hit by a car, young man returns to fight in the streets of Ghaziabad
A viral video of the incident shows a white Honda driving into two male students fighting in the middle of the street.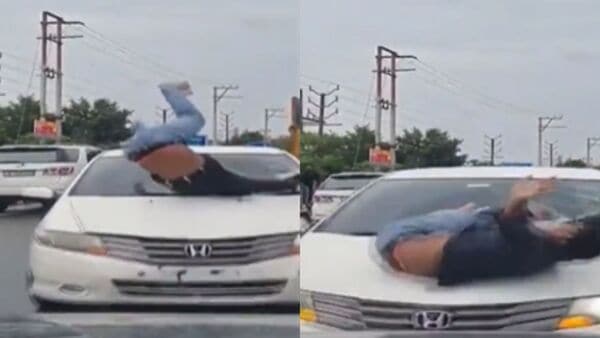 After a clash broke out between two groups of college students on Wednesday afternoon on the Masuri PS confines in Ghaziabad, two male students were hit by a car and still returned to join the fight, no not confused. A video of the incident has gone viral on social media. It shows two groups of boys fighting in the middle of the street. When they saw the oncoming vehicles, they started to run into the corners but they did not notice that the white Honda sedan was coming and was hit by it.
The video shows them being thrown into the air after being hit by a moving car but they still managed to get up without flinching from the crash and started fighting each other again.
(Also read | Try for it! New technology helps cars detect when you are drunk, preventing driving)
After the incident was reported by Masuri police, some of the students in the group were detained, Iraj Raja, SP Rural Ghaziabad, told ANI. Detainees will be questioned while a case is registered. "Immediate action is being taken in this matter, and several students have been detained and are being questioned. The vehicle in the video was seized," Raja said.
He added that the driver of the speeding Honda was trying to get through the altercation at the time of the incident and an investigation into the matter is underway. The Court will take other actions in this regard.
The search has also begun for the rest of the boys involved in the street fight. Masuri police said they will increase patrols in the area around the college to avoid such incidents in the future.
If college students collide head-on with a speeding car, they could be seriously injured or even lose their lives.
First published date: September 22, 2022, 16:15 PM IST